EUL Academician Öke drew attention to the Hoarding Behavior that emerged in the Covid-19 Pandemic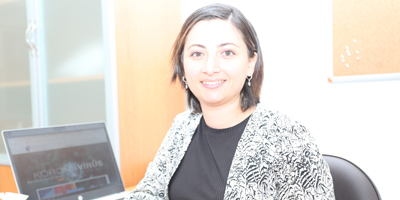 European University of Lefke (EUL) Faculty of Arts and Sciences, psychology department lecturer Dilem Öke made statements about "Hoarding Behavior in the Covid-19 Pandemic".
Öke "Hoarding behavior is when large quantities of materials, food, money, etc. collection and storage behavior. The hoarding behavior can sometimes be done by hiding and the person can collect so much material that he can't escape.
"Often hoarding behavior can occur with severe distress (stress) or disorder"
"Often, hoarding behavior can occur with severe distress (stress) or disorder. The DSM-5 characterizes hoarding disorder with the perception of the necessity of storing objects and the distress of disposing of them. Difficulty in disposing of one's possessions results in the accumulation of these objects, which take up the person's living space and pile up. Regardless of its true value, the person with this behavior disorder may have difficulty in disposing of their possessions or breaking their relationship with them. People with hoarding disorder show attachment to objects due to childhood losses. By collecting and hiding many things, the person may try to fill or resolve the gap between their problems and their trauma. On the other hand, researchers tried to explain the hoarding behavior by associating it with Karl Marx's economic theories, and they came to the conclusion that hoarding behavior connects us to the future. Owning and collecting materials and money is linked to future use. From this point of view, in this extraordinary COVID-19 process that we are going through, after the World Health Organization declared a global epidemic on March 11, 2020, all the states of the world made a call to "stay home, stay safe". In the following period, the whole world has switched to quarantine. In such stressful or crisis situations, humans and other animals may engage in hoarding behaviors with a more intense impulse."
"Anxiety about not being able to reach material and basic needs can lead to hoarding behavior"
Concluding her explanation Öke said  "These efforts to secure material resources can create problems for societies and individuals. In addition to the feeling of uncertainty arising from not knowing the exact effects of the coronavirus, concerns about health problems are increasing. People also worry about losing their jobs or being overworked. In addition, they were worried about having their basic needs, because before going through the quarantine/isolation process at home, cleaning-food was started to be accumulated by making 3-4 times the shopping that is normally done in the markets, and it was reached until other individuals could not find them in the markets. Anxiety about not being able to reach material and basic needs can lead to hoarding behavior. That is, believing that we are doing something to avoid our fears or anxieties (our work) can give us a false sense of control and temporarily relieve our worries. Taking control of the situation in hoarding behaviors to overcome the crisis times created by the pandemic process can temporarily relieve anxiety and push people into the cycle of exhibiting hoarding behaviors even more. Researchers are investigating whether such hoarding behaviors become a habit or that these behaviors will decrease and disappear after the pandemic.