EUL Academician Okray addressed the Concept of Social Gender Equality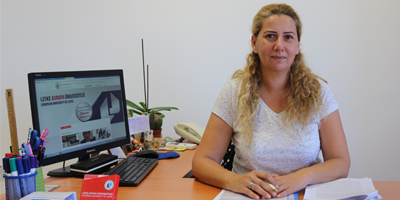 Homicides of Women are an important problem waiting to be solved not only in Turkey but all over the World
Head of European University of Lefke (EUL) Department of Psychology Assoc. Prof. Dr. Zihniye Okray presented her research titled Justice for Şule Çet ': The Critical Discourse Analysis Model of Twitter Data at the International Educational Sciences and Social Sciences Symposium which was hosted by Nevşehir Hacı Bektaş University as a verbal statement.
In her presentation Okray stated that Homicides of Women are an important problem waiting to be solved not only in Turkey but all over the world and added that homicides of women is the most common definition of femicide in Turkish literature.
Okray: We are raising a new generation equipped with information on the concept of gender equality
Okray stated that "In the simplest sense, the term femicide expresses that woman being killed only because she is a woman. In this study, following the murder of Şule Çet, the micro-blog social networking site Twitter data is analyzed retrospectively with critical discourse analysis". Okray further stated that among the findings obtained by examining and analyzing the micro-block created with the hashtag of "justice for Şule Çet" , it was concluded that women's sexual lives, being single and working, living away from their families, clothing styles were seen as legitimizing concepts of rape and murder.
In her presentation, Okray made references to the rape and murders committed on different dates as a result of the investigations and made suggestions for justice. She also condemned sexual harassment committed by privileged groups. Okray further added that that as the Department of Psychology at the European University of Lefke, they have been carrying out an important role as a department in the development of a new generation equipped with information about the concept of gender equality, as well as carrying out gender-related courses along with different courses.