EUL Academician Tamirci made statements about "Pharmacological Treatment Methods for Disorders such as Colds and Flu (Influenza)"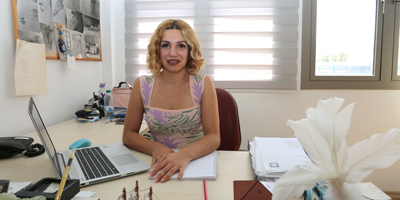 European University of Lefke (EUL) Faculty of Pharmacy Faculty Member Assist. Prof. Dr. Mevhibe Tamirci gave information about "Pharmacological Treatment Methods for Disorders such as Colds and Flu (Influenza)".
Stating that cold and flu is a viral disease that affects people of all ages and manifests itself with acute upper respiratory tract infection (URTI), Tamirci said, "It is the most common disease that occurs two to five times a year in adults and seven to ten times a year in school-age children. It's an infection,".
Tamirci stated as "It is known that over 200 different viruses, most commonly rhinoviruses, cause URTIs. Therefore, the most frequently applied treatment method in such viral infections is pharmacological treatment methods aimed at eliminating the symptoms called symptomatic and increasing the quality of life of the person. However, if it is understood that viral infection causes pandemic influenza and Severe Acute Respiratory Syndrome as a result of the evaluation of the symptoms by specialist physicians, the use of antiviral drugs aimed at killing viruses by various mechanisms may be required in addition to symptomatic treatment."
"Considering that cold and influenza infections are the most common diseases during the year, it is very important to recognize the drugs that can be used for the treatment of these diseases and to use these drugs at the right time, dose, interval and duration, both in terms of the course of the disease and its undesirable effects. Tamirci, who shared information, explained that first of all, it should be kept in mind that the most frequently used drugs in these infections aim to eliminate the symptoms and do not have any lethal effect on the virus.
In the continuation of her statement, the Tamirci mentioned the following; The most frequently applied drug group for this purpose is "Non-steroidal anti-inflammatory drugs". These drugs are non-steroidal (oil) agents with "painkiller", "fever reducing" and "anti-inflammatory" activities. Among these drugs, there are "paracetamol", "aspirin", "ibuprofen", "diclofenac", "naproxen", etc. drugs that everyone knows. These agents aim to reduce fever and relieve pain during cold and influenza infection. Even today, some of these drugs are prepared in combination with "pseudoephedrine" and are generally offered to patients to be administered every 4 hours in accordance with the characteristics of the person's health status, age and weight. Pseudoephedrine, on the other hand, aims to eliminate the problem of nasal congestion by controlling the swelling in the nasal mucosa. However, although these drugs contribute to the treatment of cold and influenza infection, the wrong use of these drugs can cause a number of problems. For example, drugs such as aspirin, ibuprofen, diclofenac, etc., can cause irritation in the gastrointestinal tract and even peptic ulcer due to long-term use, since they damage the protective structure of the gastric mucosa. For this reason, it is recommended that these drugs are not used for a long time and/or should be taken together with gastric protective drugs. In addition, it should be kept in mind that these drugs should be taken on a full stomach, that is, just before or after a meal. In cases where people with chronic gastrointestinal disorders need to use antipyretics and pain relievers, paracetamol, which has almost no irritating effect on the stomach and small intestine, should be preferred.
These drugs can also increase blood pressure by causing contractions in vascular smooth muscles. Such pain relievers, especially combined with pseudoephedrine, can increase blood pressure in people with high blood pressure. For this reason, it is recommended to use these drugs carefully under the supervision of a doctor in hypertension or similar blood pressure irregularities. In addition, these drugs, most notably aspirin, have a blood-thinning effect. Long-term use of aspirin can cause stomach bleeding or bleeding from other parts of the body. Especially if the patient is using aspirin, aspirin use should be terminated a few weeks before any surgery.
Tamirci used the following statements at the end of her statement; As can be seen, the use of drugs correctly and at the right time interval plays an important role in the treatment of diseases, while misuse of these drugs can cause undesirable effects. Keeping the immune system strong with healthy nutrition and sports is the most important factor in preventing diseases, considering that the cases of colds and influenza will increase as a result of the weakening of the immune system with the arrival of the winter months. However, considering that it is not possible to avoid these infections most of the time, in cold and influenza infections; By using painkillers and antipyretic drugs correctly, we can manage to alleviate the symptoms caused by the disease. However, it should not be forgotten that excessive and unnecessary use of these drugs can cause the above-mentioned side effects, and it should be noted that in case of any undesirable effects, a physician should be consulted.