EUL Accepts Students for the Education Administration and Supervision PhD Programme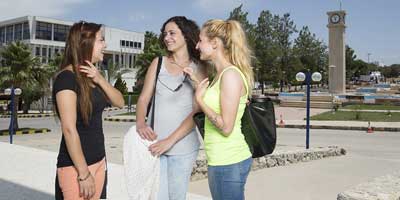 EUL has opened up a new PhD programme.
EUL will accept students to the newly-opened Education Administration and Supervision PhD Programme, which is affiliated to the  Institute of Graduate Studies & Research, in 2014-15 Academic Year for the first time.
The Education Administration and Supervision PhD Programme aims to raise scientists who want to have a PhD degree in parallel with the developments in educational sciences.
"The goal is to have qualified educators"
Prof. Dr. Ayşe Canan Çetinkanat from the EUL Dr. Fazıl Küçük Education Faculty stated that the overall goal of the new programme is to meet arising needs in the field of education in the country by educating qualified and specialized academic staff.
Çetinkanat said that they are going to have practical courses besides theoretical sessions and students will have the opportunity to gain the skills required to conduct scientific researches, evaluate and interpret information. Çetinkanat also stated that another goal of the programme is to meet the need for academic personnel at the university arisen in recent years and to raise academicians who can follow the developments in their field and are sensitive to the universal values.