EUL Celebrates the Libraries Week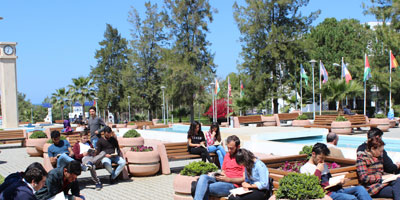 Sinan Akyüz to come to EUL
The activities, which are organized for "52th Libraries Week" by Directorate of Ertuğrul Apakan Library of European University of Lefke (EUL), Culture and Art Club and Library Club, have started at 28 March 2016 and are made to bring book reading habit and raise awareness.
In the second day of libraries week's activities, which has started with the film "Like Start on Earth-Every Child is Special"s presentation, the opening of  "Atatürk" titled exhibition has been made and it will be visited until 4th April, Monday.
"Book Reading Activity" has been done at the same time with Turkey
In the third day of the activities, "30 Minutes of Book Reading Activity" has been done by university staff and students at 12:30-13:00 in EUL Plaza simultaneously with Turkey's 81 city.
In the forth day of 52th Libraries Week celebrations activities, database education seminar has been made in the Seminar Hall of Library. Detailed information has been given by Proquest Trainer Esen Dağdelen to the participated students and academic/administrative staff in the "Do You Want To Use Library Sources More Efficient In Your Academic Works?" titled seminar.
Books are given away
At Friday, April 1, Directorate of Library, Culture and Art Club and Library Club have visited Yeşilyurt Special Education Center and have given away books to the students in order to emphasize the importance of the Library Week.
"Signing and Talking Day with Sinan Akyüz" will be organized
In the last day of Ertuğrul Apakan Library activity program, with the support of Deniz Plaza, Signing and Talking Day with Journalist and Author Sinan Akyüz will be organized. Akyüz will come together with the students of EUL between 11:30 am and 1:00 pm in EUL Rauf Raif Denktaş Education Complex Conference Hall at 5th April 2016.