EUL Constructional Engineering laboratory is fully equipped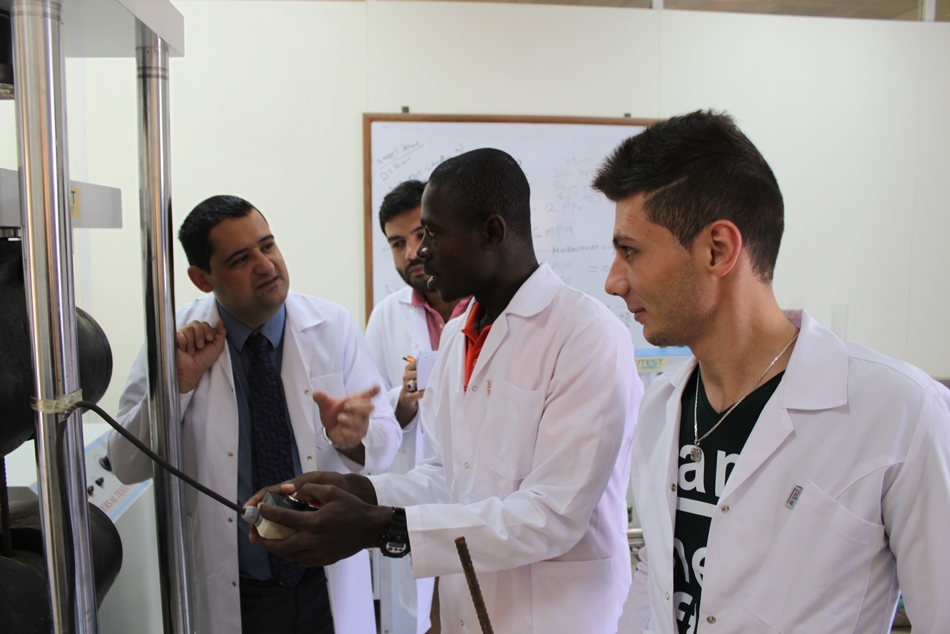 Students are using the non-destructive testing equipment
Vice Dean of Engineering Faculty of European University of Lefke (EUL) and Constructional Engineering Department associate Assist. Prof. Dr. Ertuğ Aydin points out that the Constructional Engineering Department is a department that has to implement both theoretical and practical skills. Aydin, who emphasize the importance of hands-on training, has stated that improving the substructure of Constructional Engineering laboratory of EUL as compatible to today's conditions will bring the associates and students in more advantageous position.
Aydin has mentioned that besides the laboratory of Constructional Engineering Department of EUL, there will be built a new building as an addition to the capacity of the laboratory and to the students, implements has been made in areas of soil mechanics, construction materials, building science, topography, transportation, hydraulic and non-destructive methods. Aydin also emphasized that the students are being raised as experienced persons by getting up to date information and using the non-destructive testing equipment at field applications to determine the existing reinforced concrete.
Students are being raised in the light of the information within modern technology
Aydin mentioned that the students, in their technical elective course, are getting chance to implement three dimensional concrete tomography, corrosion mapping, windsor probe, the amount of corrosion, reinforcement test systems in the existing reinforced concrete buildings. Aydin mentioned that also with the full automatic computer controlled sound and heat isolation test system, the student have a chance to test the materials that they made. Aydin also added that the soil mechanics laboratory also allows them to do every kind of physical, mechanical and endurance tests.
Aydin mentioned that the students of Constructional Engineering Department of EUL are living the "privilege of starting to life one step ahead" in every phase of their education. Aydin also added to his speech that they take pride in bringing the up to date information about modern technology to the students.