EUL Continues to be Assertive in Communication Sciences Postgraduate Programs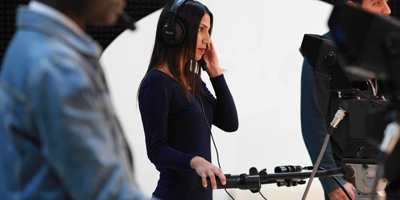 European University of Lefke (EUL) Postgraduate programs at Faculty of Communication Sciences graduates students with the goal of educating creative, independent thinkers and scientists capable of understanding, analyzing and interpreting today's fast, complex media world and different communication processes.
Tarhan: Communication forms the basis of all social activities
The Dean of European University of Lefke (EUL) Faculty of Communication Sciences Prod.Dr. Belkıs Ayhan Tarhan said that in the faculty of the Faculty of Communication Sciences, Turkish and English- "Master's programs with thesis" in the field of Communication Sciences and Turkish Ph.D. Program in Communication Sciences, is available. "As the importance of communication and the role of the media in shaping and / or managing the world we live in can be grasped today we are also able to understand the significance of those professionals and scientists specializing in the field of communications science," said Tarhan. Adhering to the interdisciplinary nature of the communication field with master's and doctoral programs; Tarhan said that they aim to graduate students with the ability to research, analyze and interpret. Stretching from politics, economics and popular culture, Tarhan pointed out that media and communication play one of the main roles in every kind of interaction. Tarhan also stressed that the richness and opportunities offered by this area also carries a quality of attracting students.
Tarhan: Media and communication play a role in both production and consumption
Tarhan emphasized that the post graduate programs of Communication Sciences are shaped by the movement that interdisciplinarity is indispensable for social sciences. Tarhan said that media and communication are one of the most effective areas of production and consumption in today's conditions, and that they offer a wide range of lessons with understanding and researching related theoretical approaches and practices. Tarhan thus said that the flexibility for different areas of interest and expertise, including verbal, written and visual studies contacted by the communication sciences, has made it an important advantage for the postgraduate programs. "We especially take into account the increasing prevalence of digital communication platforms in recent years and the new career and expertise that has arisen there, and the 'new media' focused work and research areas have become a major axis of our programs," Tarhan said.