EUL Contributes in "Occupational Health and Safety" Training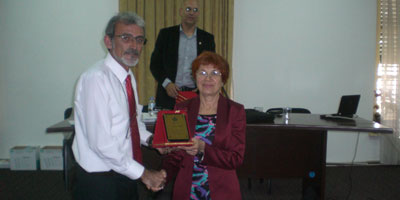 Prof. Dr. Ayşen Türkman from the EUL Faculty of Engineering and Halil Erdim, mining engineer in TAŞOVA (Quarries Foundation) conducted a seminar on Occupational Health and Safety for the personnel of the Ministry of Highways.
Türkman provided participants with detailed information on the issue and made some suggestions regarding the Occupational Health and Safety principles and the problems of the TRNC highways. She also explained what needs to be done concerning the workplace setup, organization, recruitment and placement, training, and audit.
Türkman expressed her content that they, as EUL, participated in those trainings and contributed in raising the awareness of the highways staff.
After the seminar, Hasan Nihat Erduran, Director of the Highways Department, presented Prof. Dr. Ayşen Türkman a thank you plaque.