EUL Environment Club Students Raised Awareness on "World Water Day"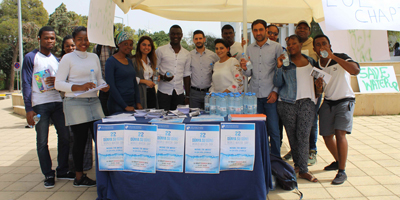 Attention Drawn to the Economic Use of Water
European University of Lefke Office of Students' Dean and Environment Club students organized a social awareness activity on the occasion of "March 22World Water Day" with the leadership of Engineering Faculty academician Dr. Devrim Özdal.
Giving information about the activity which took place at EUL Plaza, Özdal stated that Environment Club consists of master and doctorate students of Department of Ecological Sciences and added that United Nations – Water has determined the theme of 2018 World Water Day as "Natural Solutions for Water". Pointing out that they have organized the event in order to raise awareness, Özdal said that, "Access to clean and usable water in the world is very difficult, access to clean water is becoming less and hard day by day, and the need for clean water is also increasing. We wanted to draw attention to this situation".
Özdal stated that they prepared brochures including information about World Water Day and that these brochures were distributed within the university, and added that water can be used more efficiently with savings that each individual can easily do, such as not leaving the tap open when brushing teeth at home, avoiding water wastes while washing dishes, and spending less time in the shower. He also said that, "So we can leave more water for future generations,".
President of EUL Environment Club Oluseye Owoeye said that the purpose of the Environmental Club's activity is to draw attention to the fact that reaching to clean water is not that possible and added that the aim is to draw attention to how water can be further increased by its regular and economic use. Owoeye also stated that information was provided on how nature should be used to obtain more water in the event.
On 22 March World Water Day event students expressed their thoughts:
Harun Atar: Water is a source of life and it is as important as breathing. We cannot live without water in our lives. I'm trying not to waste water with an awareness on water. This activity has further enhanced water awareness and importance.
Mutsa Msabaeka: I am a second year master student in the Department of Environmental Sciences. It is very important for the next generation to convey the water in a clean manner as much as it is important for the people living in this era. First of all, building an environmental club for the school is an important event. We are aiming to do better works with the support we receive as the Department of Environmental Sciences and club.
Ahmet Engin: I'm a second-year student at the Department of Physiotherapy. Water is very important in our lives and very valuable for our bodies. Every healthy person should consume 1.5 liters of water a day. Water, I think, is a purity, naturalness, one of the main sources of nature. Without water, humans nor any living beings cannot live after 3 days. We need to raise awareness of our people with seminars on water and activities related with water.
Mehwish Saleem: I am a first year master student in the Department of Environmental Sciences. I am a member of the Environment Club. We wanted to make a social awareness event to draw attention to the importance of water. About three quarters of the world is covered with water, but the amount of clean, usable, water can reach is only 2 percent, and it does not reach all countries equally.