EUL Ertuğrul Apakan Library organized various events on the 53rd Library Week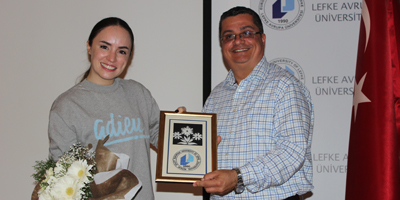 EUL hosted famous scriptwriter-writer Şebnem Burcuoğlu
European University of Lefke (EUL) Ertuğrul Apakan Library and Library Club organized an exhibition, film screening, interview and signature day within the scope of activities organized by the 53rd Libraries Week.
"The 53rd Library Week began with the exhibition "Authors Who Leave Traces With Pictures" opened at the Library Exhibition Hall. In another activity organized in the Library Seminar Room, the students of Yeşilyurt Special Education Center visited the Ertugrul Apakan Library and received information about the library from the staff. Within the scope of the events organized to gain reading habits and raise awareness, Yeşilyurt Special Education Center students and EUL students were presented two different films.
Interviews and signing days were organized with Şebnem Burcuoğlu, who wrote the script for 'Kocan Kadar Konuş',  and the books of 'Kocan Kadar Konuş Diriliş', and 'Şeker Fare' at the same time.
Burcuoğlu met with the students in the EUL Rauf Raif Denktaş Conference Hall and explained how they were going through the process and shared her life story with the participants. Burcuoğlu, who works as a manager in the field of corporate communication in business life, stated that she started author life by sending her writings to the magazines and she penned the first book, Kocan Kadar Konuş, with a proposal from a publishing house following her writings. Burcuoğlu said that everything developed very fast and that her book had begun to be interviewed soon after filming. She also said that she wrote the film script and she answered the questions of the participants and signed her books by taking a souvenir photo with them.
At the end of the commune, a memorial plaque was presented to Burcuoğlu reflecting the cult of Cyprus by Özgür Yılmabaşar- Students' Dean Office.