EUL Faculty Member Ermiyagil's article published in London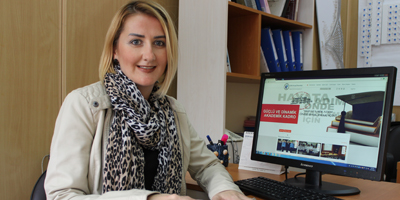 Ermiyagil: Today, traditional Turkish residential architecture faces the danger of extinction
European University of Lefke (EUL) Faculty of Architecture Interior Architecture faculty member Dr. Selen Abbasoğlu Ermiyagil and Istanbul Technical University Faculty of Architecture Teaching Member Assist. Prof. Dr. Ömer Erem's article "Adapted Design Generation for Turkish Vernacular Housing Grammar" was published in September 2016 in "Environment and Planning B: Planning and Design" published in London.
Ermiyagil stated that "Environment and Planning B: Planning and Design" is one of the fastest growing magazines with the greatest number of readers in the field of urban planning and design. Ermiyagil pointed out that formal publications, which are accepted as magazines, have formal methods and methods for spatial problems including the spatial structure of cities and regions, models, theories, applications, and are high-quality articles.
Giving information about the study, Ermiyagil said that today the traditional Turkish residential architecture faces the danger of extinction. Ermiyagil stated that new developments lead to changes in social life and settlements and that urban, rural and urban textures have been distorted accordingly. Ermiyagil pointed out that their collaborative work with Erem has been developed on the basis of method and architectural language in "design methods, shape grammar and adaptive design"
The design language of Turkish residential architecture is resolved
In this pilot study, Ermiyagil pointed out that in the developed model, the analysis was based on language and the dependence on the mathematical proportions of the existing elements used. In this context, Ermiyagil expressed that the character was not distorted and it was suggested for the purpose of culturally sustainable character.
Ermiyagil said that based on the classification of the plan type of traditional Turkish Houses located in Balıkesir region, Ermiyagil developed a method based on the two dimensional parametric method grammar method depending on the development and grouping of the Traditional Turkish Houses in the sofa environment. In this context, Ermiyagil, explaining that they solve the design language of the traditional Turkish residential architecture by using this developed parametric form grammar method and reveal grammatical rules, in this context, taking into account the rules revealed, they stated that they determined the contemporary needs of the users in the result of the survey.  "In line with these developed rules, it will be ensured that new construction areas will be formed from structures that will not break the existing design language and meet current needs," said Ermiyagil, emphasizing that this has developed a design language adapted to sustain the existing design language of new designs.