EUL Faculty of Architecture organized the "Covid-19 Pandemic, People and Space: A New Urban Life" event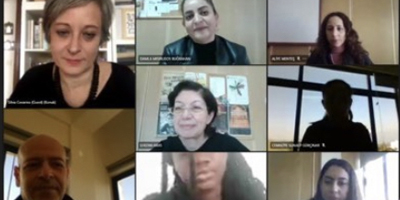 The "Covid-19 Pandemic, People and Space: A New Urban Life" event was held by the Faculty of Architecture of the European University of Lefke (EUL). The event attended by an invited speaker, Assoc. Prof. Dr. Silvia Covarino. The event started with the speech of the dean of the Faculty of Architecture Prof. Dr. Lerzan Aras. Covarino's presentation was moderated by EUL Architecture Faculty Academician Asst. Prof. Dr. Damla Misirlisoy. In the event, the change and transformation issues observed in the urban space, along with the living habits that changed during the pandemic process, were discussed.
Assoc. Prof. Dr. Silvia Covarino emphasized the impact of the pandemic on urban space and architecture in her speech and continued her words as follows: "Mankind has had to fight different pandemics for centuries and has always managed to learn lessons after this war. Every culture and every discipline has been affected differently by the pandemic. The field of urban and architectural design has also been affected by this pandemic. From 2019, when the Covid-19 epidemic began to spread, it has been observed that the built environment needs change and transformation according to the new normal, with the fear of being infected. However, it will take time to develop healthy and sustainable built environment design proposals to stop the spread of the virus and take measures to avoid being infected. It is necessary to rethink the natural and built environment against the current situation and possible epidemics. While doing this, parallels should be established with 'sustainable approaches' without affecting natural resources and harming the environment. Due to the ongoing pandemic, designers are still in the monitoring, adaptation and digesting phase. This transformation will take time. However, without forgetting the experiences, the studies on the city and architecture should continue in every dimension and with the relevant stakeholders in a way that is prepared for new possible scenarios. In this context, stakeholders from different disciplines will need to work together while developing future scenarios."
The event, which continued with a question and answer session, was completed with the interactive participation of students and faculty members.