EUL Faculty of Communication Sciences was represented at the Turkic Council Media Forum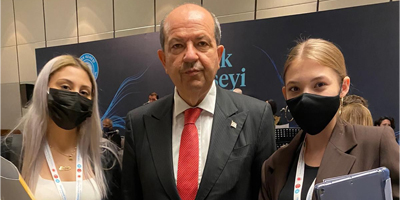 The students of the European University of Lefke (EUL) Faculty of Communication Sciences attended the Turkic Council Media Forum organized by the Presidency of Communications of the Republic of Turkey.
Leading media representatives from Turkmenistan and TRNC, as well as Turkic Council member countries Azerbaijan, Kazakhstan, Kyrgyzstan, Uzbekistan, Hungary with observer status, academicians, senior officials of public institutions and organizations, social media phenomena and university students attended. Within the scope of the event attended by 2 senior undergraduate students from the Faculty of Communication Sciences of the European University of Lefke, a workshop was held in addition to 6 main sessions.
TRNC President Ersin Tatar, Presidential Communications Director Fahrettin Altun and Turkish Council General Secretary Baghdad Amreyev made speeches at the Forum, which was themed as "Rooted Past, Strong Future," attended by TR President Recep Tayyip Erdoğan via video message and
Possible collaborations in the media, TV series and film industry in the Turkish world, as well as joint struggle with social media and disinformation were also discussed.
Zeynep Karakuş, a senior student at the Visual Communication Design Department, and Emine Özberenk, a senior student at the Department of Public Relations and Advertising, who represented EUL by participating in the Forum, attended by 350 guests, and Emine Özberenk, are glad to have participated in such an international event and as an undergraduate student, especially at the Faculties and Universities of the TRNC. They expressed their happiness and excitement to represent . "As the communicators of the future, we must work hard to ensure effective communication and strong cooperation, especially the members of the Turkic Council and the youth of the Turkic world. Such events teach us to trust ourselves and give us horizon. We exchanged ideas with young communicators of our age, talked about what we can do for the cooperation of our countries in the future… We both established good friendships and contributed to the promotion of our country."
Expressing that the program lasted for three days, Zeynep Karakuş and Emine Özberenk, students of the Faculty of Communication Sciences of the European University of Lefke, stated that they participated in social events such as TRT TV series plateau tour, Bosphorus tour, Hagia Sophia visit and concert as well as participating in sessions and workshops organized within the scope of the program. We would like to thank our faculty and our university".