EUL Faculty of Pharmacy organized a symposium and 'White Gown" ceremony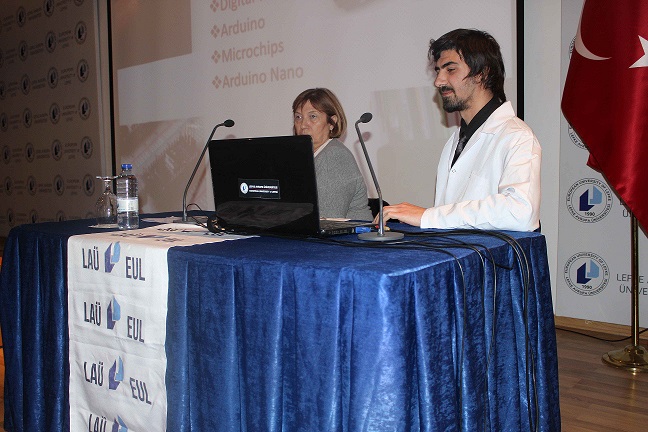 A symposium entitled "New Trends in Health Technologies" organized by European University of Lefke (EUL) Faculty of Pharmacy was realized. Prior to the symposium, "White Gown" wearing ceremony took place, for the students of Faculty of Pharmacy.
The Dean of Faculty of Pharmacy Dr. Rümeysa Demirdamar has emphasized that the Faculty of Pharmacy has opened its doors for the education in 2016-2017 Academic years and that students are able to keep up with education, updates in pharmacy and current information through 'New Trends in Health Technologies'.
Demirdamar stressed that the aim of the symposium is to enable us to visualize the near future through the perception of the students; who are the future pharmacists, industrialists and scientists which the medicine and the treatment shall reach with the aid of the technology, and which technologies are to be adapted and applied to the medicine and treatment. The fact that the new methodologies and application are the composed of the sciences of electronics, communication, education and other medical sciences, the symposium addresses to all students and instructors.
In the symposium, Mohammed Al-Bayati, "Smart Drug Packaging and Fun Drug Bottle Caps", Nezire Çınarlı "Nanobiotics", Sevgül Sönmeyen "Bionic", Emanuel Ayo-Tamuno "Robotics in Health", Aghımıan Catherine "New Dental Solutions", Yacoub Moussa Mahamat " Farmabiotics ", Faize Abbas" 3D Tablet Edition ", Ledio Pushaj" Life Saving Identity Card Project ", were presented.