EUL Gastronomy Department continues to train new professional cooks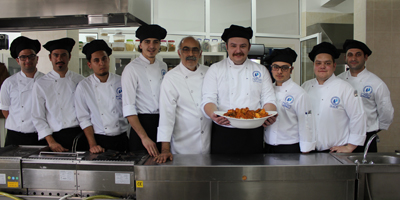 The Gastronomy Department under European University of Lefke Higher-school of Tourism and Hotel Management continues to train and educate new professional cooks to be active in the sector. The students of EUL who are progressing in gastronomy (4years) and Culinary Arts (2years), with the accompany of professional academic staff, are been trained in Gastronomy Application Kitchen in learning Cyprus, Turkish and European Cuisine and also World Cuisine.
Türksel: Initially we are learning the working system in the kitchen
Zihni Türksel- The Lecturer of Gastronomy Department under European University of Lefke Higher-school of Tourism and Hotel Management, informing about the department, stated that they are teaching the working system of the equipment in the kitchen, the methods of cooking, utilization of apparatus, hygiene rules and also the process from the preparation phase until the presentation of the produced meal.
 "Our Students Succeeded Numerous Times"
Türksel emphasizing that EUL Gastronomy Department is in hold of wide and full technologically equipped kitchen also stated that the students are been trained theoretically and practically in accompany of academicians who are experts in the field.
Türksel underlined that since the last two years the students have resembled significant success in various national and international contests and organizations in various branches of competitions thus been granted gold, silver and bronze medals, and also achievement certificates; representing EUL in the most appropriate manner.
EUL Gastronomy education is prominent in Cyprus
Türksel emphasized that the medium of instruction in EUL Gastronomy Department is English and one-to-one cooking training is assisted also while teaching the preparation phase, food decoration and the cooking methodologies thus resulting in success in the international contests.
Türksel finally underlined that EUL is prominent in Gastronomy education amongst the universities in Cyprus also stressing that "until today we had led the way both local and abroad. Especially in past two years academic staff who are experts in their fields are present in our university. Thus allowing significant improvement in our students".