EUL Gastronomy Success once more proven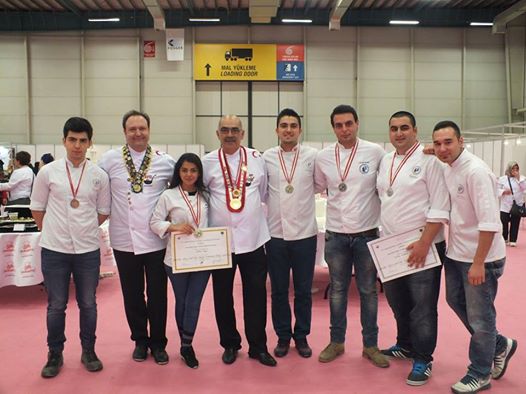 "3 Gold", "2 Silver" and "1 Bronze" Medal to EUL
The students of EUL Higher School of Tourism and Hotel Management Gastronomy Department have participated in the "14th International Culinary Days Fest" to represent the European University of Lefke. EUL students, Celal Fırat Özdemirli, Emre Varol, Nadir Kalaycı, Kubilay Şimşek, Şükran Kaya and Batuhan Bozkurt, who have competed in various branches have been awarded with numerous awards. Gastronomy Students of EUL have competed in "fish", "desert" and "meat" branches, in the competition which numerous participants have competed from different country.
Students were awarded 3 Gold, 2 Silver and 1 Bronze medals
Celal Fırat Özdemirli was awarded gold medal in the category of "Fish" while Emre Varıol was awarded bronze. In the main dish of "Meat" category Nadir Kalaycı was awarded gold while Kubilay Şimşek was awarded silver. Finally in the "Deserts" category Şükran Kaya was awarded gold while Batuhan Bozkurt was awarded silver medal.
EUL Assertive in the field of Gastronomy
Students of Gastronomy Department were accompanied by the Head of Gastronomy Department Assist. Prof. Dr. Aytaç Yıldırım and the academist Zihni Türksel during the competition, as they have well represented EUL. The students reported to be happy with the results and added that they have always placed in the competition with a degree and that they are assertive in this respect.