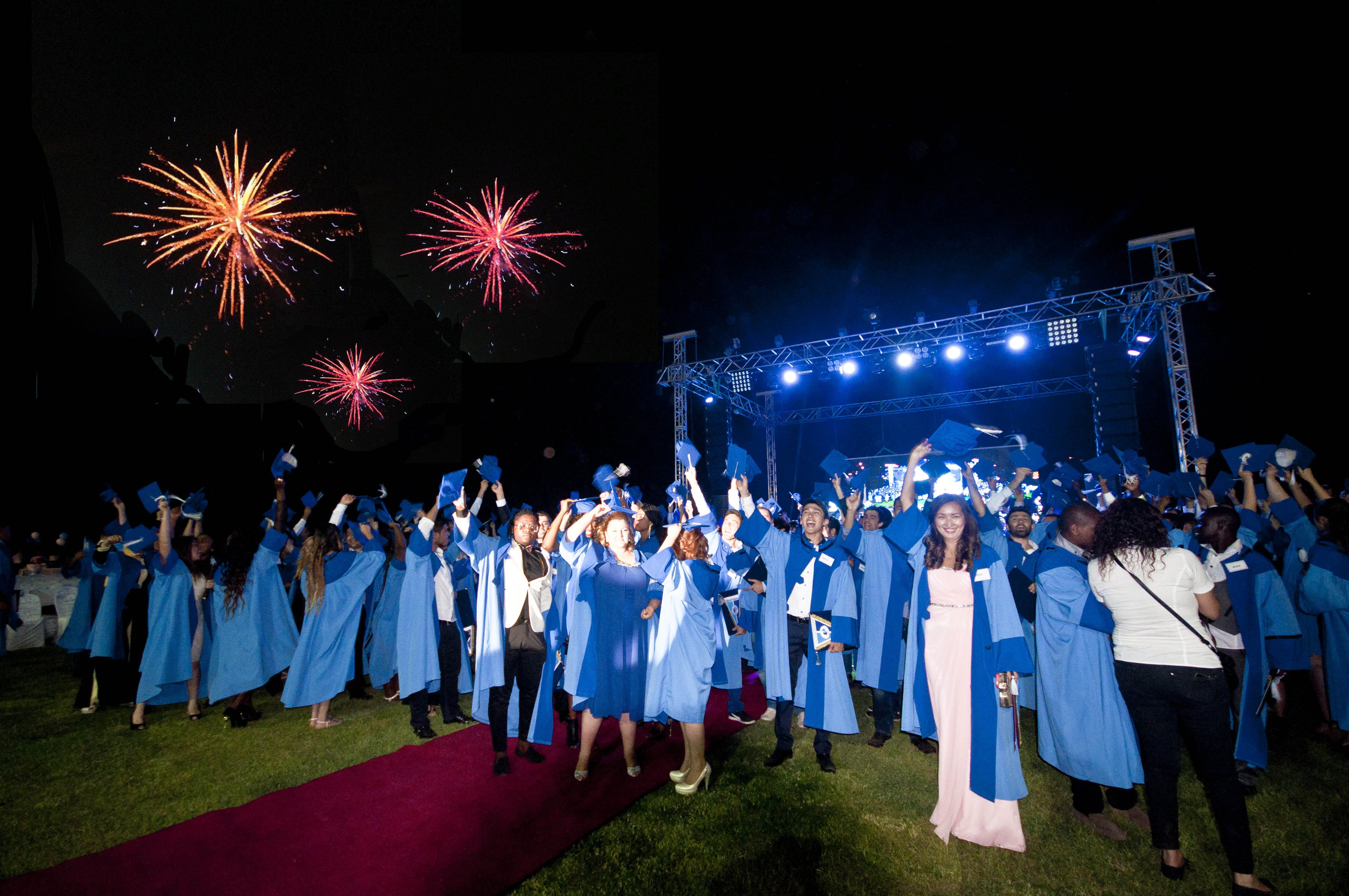 European University of Lefke (EUL) 2013-14 Academic Year Graduation Ceremony was held at Lefke Stadium (16 Agustos Zafer Stadı) on 26 June 2014.
Sibel Siber, President of the TRNC Parliament; Halil İbrahim Akça, Turkish Ambassador and some members of parliament attended to the ceremony.  EUL produced 308 graduates from associate degree, undergraduate and graduate programmes this year.
The ceremony started after a moment of silence for Atatürk, late academicians, martyrs and Vehbi Zeki Serter, former President of the Assembly, who recently passed away.
SİBER: "THE ACHIEVEMENT OF OUR STUDENTS AND EUL IS A SOURCE OF STRENGHT AND HONOUR FOR US"
"The achievement of our students and EUL is a source of honour and strength on the way to become an education island. To this end, you have important duties to fulfil" said Siber.
Addressing the graduates, she said "Every single success you achieve will not only be carrying the signature of your families but also of EUL and your country".
AKÇA: "I BELIEVE EUL WILL SOON DEVELOP A COMPLETELY NEW IDENTITY"
Akça said that there will be graduates who will have the chance to work abroad among the ones who receive their diplomas today and expressed his feeling that they will be the defenders of Turkish Cypriots who are forced to live in isolation.
Having emphasized the fact that they will always be standing by EUL, Akça said "We have clearly proved that claim in recent years. I believe that EUL will develop a completely new identity very soon."
He also said that we are living in a world where 7 billion people are in a constant competition and quoted an African saying:
"Every morning in Africa, a gazelle wakes up. It knows it must outrun the fastest lion or it will be killed.  Every morning in Africa, a lion wakes up.  It knows it must run faster than the slowest gazelle, or it will starve.It doesn't matter whether you're the lion or a gazelle; when the sun comes up, you'd better be running."
TOKEL: "TRADITION OF EUL WILL BE BRANDED BY OUR RECENT AND PROSPECTIVE GRADUATES"
Türkay Tokel, EUL Chairman of the Board of Trustees, stated that the struggle of EUL, which makes them proud, for the sake of education and science started 24 years ago and has continued up to now by challenging itself.
Tokel said that every single accomplishment by an EUL graduate will also honour the university and added "I am sure that the tradition of EUL will be branded by our recent and prospective graduates."
Tokel emphasized the fact that with the diplomas that students are entitled to receive, they will have additional responsibilities. "You are obliged to do your best to contribute in the development of our society and the world with a sense of responsibility. We have no doubt that you will fulfil this responsibility thanks to the contemporary education you were provided with here at EUL." said Toker.
YÜKSELEN: "EUL IS A UNIVERSITY WHICH AIMS TO BE A REFERENCE POINT"
Prof. Dr. Mehmet Ali Yükselen, EUL Rector, said "I feel it when I look at our graduates that we entrust the future to solid hands ." Yükselen advised the graduates to act with a sense of responsibility of being an intellectual individual and see the world free from barriers.
He also mentioned their goals and operations for the university and said that they aim to be "a reference point".
Yükselen stated that they opened up three new schools and received approval from the Council of Higher Education (YÖK) to open five new undergraduate programmes. He also noted that four new laboratories were set up within the Faculty of Health Sciences and foundation of a sustainable university was established due to the renewed IT ınfrastructure.
Yükselen added that they are still working on a project for a 2000 m2 additional lab area for the Faculty of Health Sciences and a dormitory with a capacity to house 360 students.
Yükselen extended his gratitudes to the Turkish Embassy for their support and said "If it weren't for the support of the Turkish Embassy, We wouldn't be able to do any of the things I mentioned earlier."
In the ceremony, Abisola Leah Akosite, a graduate from the Department of Business,  delivered a speech on behalf of the international students and Yağmur Seçil Cücük, a graduate from the Department of Pre-School Teaching, also made a speech
Photo Gallery