EUL holds the trust in health with its academic quality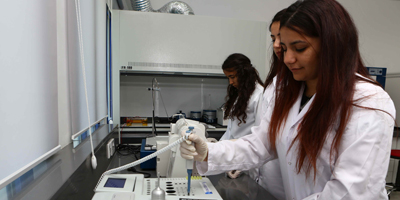 European University of Lefke (EUL) Health Sciences Master's and Doctoral Programs continue to train qualified scientists and specialists in the field, who are experienced in the field of health, acknowledged about self-development, who entrepreneurs and who do not compromise dynamic and ethical values.
Dean of Faculty of Health Sciences Prof. Dr. Ruhi Selçuk Tabak, who gave information about the departments of Physiotherapy and Rehabilitation, Nutrition and Dietetics, Social Work and Health Management affiliated to the Institute of Graduate Education and Research, emphasized that students who want to reach successful career targets in national and international axis preferred EUL with thesis and non-thesis graduate and doctoral programs. Tabak stressed that EUL's graduate and doctoral programs are highly demanded both domestically and internationally and that candidates who want to deepen their vocational knowledge and specialize in their fields are offered a variety of opportunities in the health field by EUL.
Tabak: "Expertise by Practicing and Experiencing"
Tabak who emphasized that at the end of the academic process which progresses with theoretical and practical integrity; that finalizes with seminar presentation, project or thesis study, stated that this process enables the reproduction of new information and adds positive contribution to students' scientific development. Tabak emphasized that the programs which provide the students with the opportunity for the academic future are also the core of EUL's system of raising their own staff. Tabak emphasized that the academic quality of the postgraduate education programs carried out by highly qualified and experienced lecturers in their fields, is a great source of assurance both for the students and for the university and country.