EUL Hosted the 2012's Most Famous Chef- Aydın Demir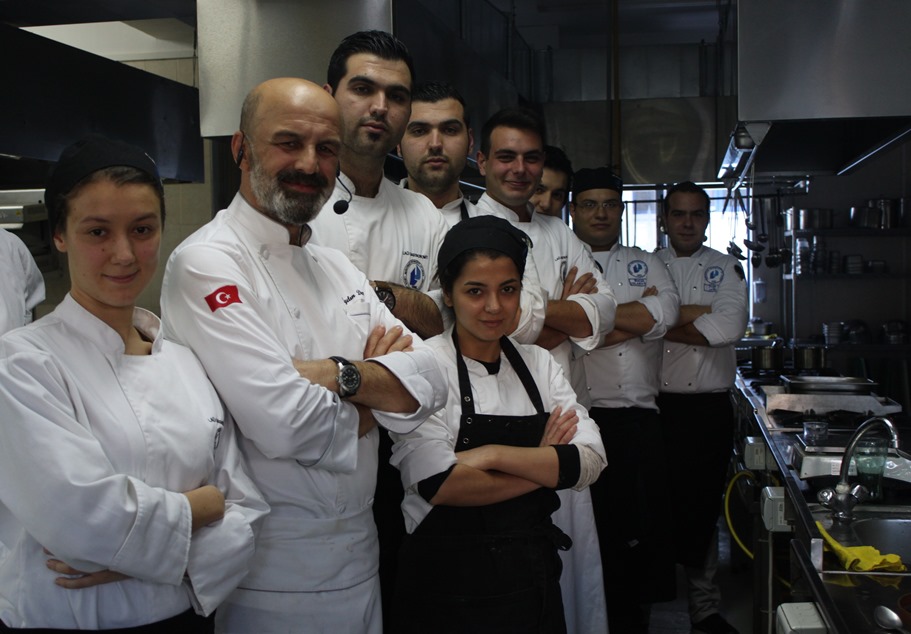 The students of European University of Lefke (EUL) Department of Higher-School of Tourism and Hotel Management have conducted a course under "Exclusive Kitchen Techniques" with the 2012's most famous chef Aydın Demir.
Demir practically instructing his experiences in EUL Gastronomy kitchen on cooking and food presentation have significantly emphasized that students initially require to know about their own cultural cuisines.
Demir emphasized that the practices undertaken by the EUL students in such an equipped kitchen will contribute positively to their professional carriers. Demir emphasized that those who are keen to be professionals in gastronomy are required to have hand skills and interest in kitchen works. Demir also recommended students to draw the pre-thought presentation of service plate before the actual presentation.
Demir underlined that "today's gastronomy students are future chefs" and stressed that students require to participate in gastronomy fairs and observe the kitchenware and also keep in touch with the relevant firms and receive further information in this sense.
Demir underlined that the future of gastronomy is rather bright and that gastronomy is one of the most popular vocations in the world as this profession will last as long as humanity exists. Finally forwarding some recommendations to the students Demir emphasized that like any other profession, when done with love one will reach the success eventually.
Cranberry tarhana soup, bean pacha, sardine in wine leaves were presented in practical method by Demir through the presentation with finally demonstrating the fig with syrup as dessert.
Following the application, the Head of (EUL) Department of Higher-School of Tourism and Hotel Management Assist. Prof. Dr. Aytaç Yıldırım have presented Chef Aydın Demir a certificate of appreciation.