EUL Hosts the Talented Actress Ecem Çalık..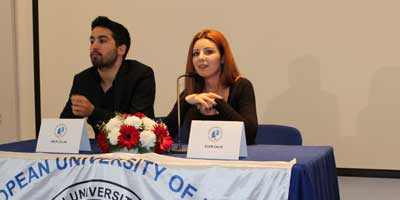 A talk was held with actress Ecem Çalık, one of Turkey's young talents, by the EUL Office of the Dean of Students.
Ecem Çalık, who received the 'Best Actress" award in Belgium in 2013 for her first film and  leading role in the film "Mevsim Çiçek Açtı" , expressed the happiness for having been a student of EUL and the excitement of being here again. Çalık who started studying acting at Müjdat Gezen Sanat Merkezi, explained what she did to advance in her career and shared her experiences and the details about her role in the series "Aramızda Kalsın".
She said that she came here to get education in the Department of Public Relations and Publicity, Faculty of Communication and emphasized the determination she had to make her dream to be an actress to come true and stated that she worked in discipline to this end. She also added that even if she wanted to continue her education at the university, her priority was being an actress.
"I have memories everywhere in Lefke and EUL. I used to rush to the dormitory kitchen in the middle of the night to make pasta just like you do it now. I miss it now. I miss the beauty of this island. I can honestly say that you are going to miss here after you graduate" said Çalık who was accompanied with Umur Çolak, a graduate of EUL.