EUL Hosts the World Famous Sight-Disabled Painter Esref Armagan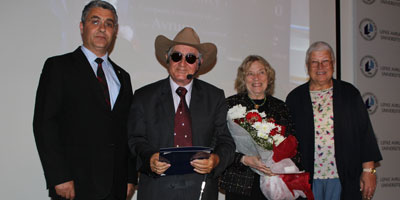 European University of Lefke (EUL) Children with Special Needs Application, Research and Education Center (OCEM) organized a commune themed as "Portraying the World without Seeing". The world famous sight-disabled painter Esref Armagan participated in the commune, which was held in the Conference Hall of EUL Rauf Raif Denktas Education Complex, as a speaker. Documentary named "Real Super Human" which shows the life of Esref Armagan and his ability of portraying objects by touching them and the award winning documentary "The Colors of Darkness" were showed in the commune after the brief speech of Director of EUL OCEM – Head of Special Education Teaching Department Prof. Dr. Aysegul Ataman.
Armagan: "I see the world with my fingertips"
Armagan, who stated that he was born unsighted, referred that he learnt to draw with pencil at age 6, started to oil-paint on paper and cardboard with his fingers at age 18 and tried to demonstrate his abilities with different drawings by using acrylic paint and canvas. Armağan expressed that he pictured the objects without seeing by touching their models with his fingertips and portrayed them afterwards, and underlined that he never received any painting lessons; his father was the person who helped him the most in picturing the technics of painting art and applying them on drawings.
"I am very happy to participate in the commune of EUL"
Armagan explained his interesting experiences warmly by drawing the pictures of different objects in the activity and referred that drawing makes him happy, thus, he is content with his life. Armagan also stated that he is very happy to participate in such a commune as the guest of EUL, appreciates the interest showed for him and thanked everyone who contributed.
After the commune, Eşref Armağan was given a certificate of appreciation and flower by the Dean of EUL Dr. Fazıl Kucuk Faculty of Education Prof. Dr. Oguz Serin and Director of OCEM Prof. Dr. Aysegül Ataman.