EUL Hosts World Wide Known Chef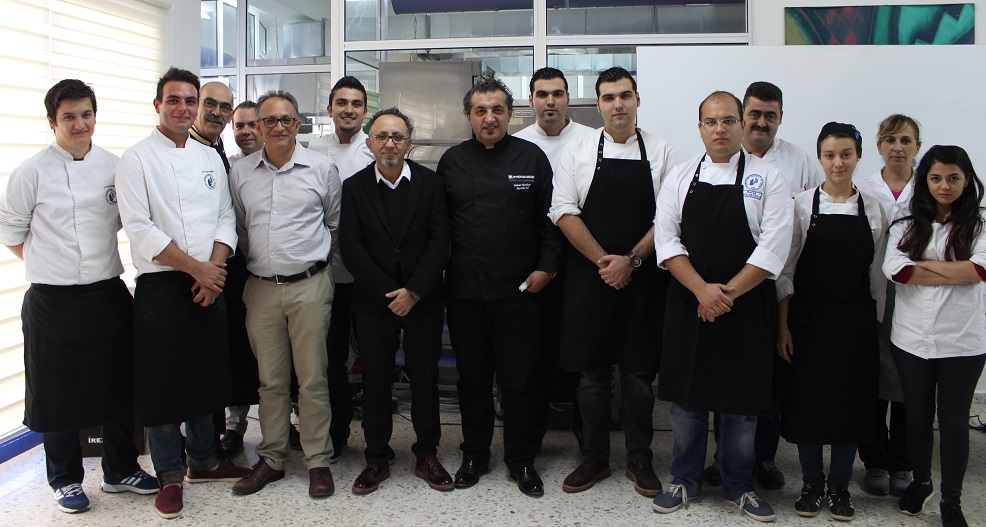 Yalçınkaya, shares his experiences
Students of Higher School of EUL Tourism and Hospitality Management Gastronomy Department have conducted practices from the world and Ottoman cuisine accompanied by the world wide known chef Mehmet Yalçınkaya as part of the "Exclusive Kitchen Techniques" course. Giving information to the students about the application techniques at EUL Gastronomy Kitchen Yalçınkaya, has also gave advices about the cooking techniques. Yalçınkaya have further shared his knowledge about the ingredients that would be helpful to achieve taste.
He has maintained his successful 27 years of culinary life at the hotels and enterprises of Qatar, Italy, France, Germany, and Greece where the tourism is really intensive. Yalçınkaya is currently an Executive Chef at the Wyndham Grand İstanbul Kalamış Hotel.
Prior to the practices, undertook a presentation to the students about the Mediterranean Cuisine and later Mehmet Yalçınkaya, has stated that it is probable to synthesize the Mediterranean Cuisine with the Modern Turkish Cuisine. However, in order to realize this, the traditional habits and local natural products of Anatolia and Mediterranean regions have to be interpreted by new perspectives.
Yalçınkaya has stated that in order to create a Synthesis Cuisine, it is essential to give importance to the traditions and natural tastes. Yalçınkaya has also emphasized that, changing the common and traditional food habits is really difficult and in order to succeed, one should keep in step with current changes by offering traditional tastes together. Finally, Yalçınkaya has stated that the trick of being a successful gourmet requires following up the latest updates in the field and that nowadays most of the people are concentrated on nature and natural production whilst "the synthesis cuisine" would be resistance to the usual cuisine percept.
Yalçınkaya has stated that the EUL is a unique university. Especially its Gastronomy Kitchen is more equipped than other universities and for having all kinds of ingridients, the students have a significant opportunity. Yalçınkaya has finally reported that "if you want to make a difference or emerge to the forefront, you always have to create new tastes and go beyond the ordinary."
Following the practice, Chef Yalçınkaya has been presented a certificate of appreciation by the Director of Higher School of EUL Tourism and Hotel Management Assist. Prof. Dr. Mehmedali Egemen.