EUL Instructor Bardak talked about "Food Allergies"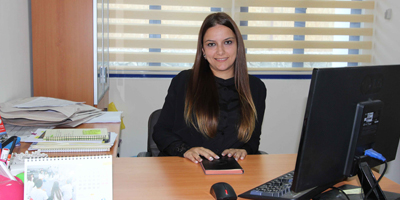 Food allergies start during the pregnancy
European University of Lefke (EUL) Faculty of Health Sciences Department of Nutrition and Dietetics Assist. Prof. Dr. Nazal Bardak gave information about "food allergies" and noted that food allergies can be seen starting from infancy, childhood and even during the pregnancy period.
Bardak voiced the emergence of food allergy when the immune system perceives a substance that is harmless under normal conditions, such as a food ingredient, by mistake, as a harmful substance. Bardak said that when the person then eats the same foodstuff, the immune system secretes large amounts of chemical substances and histamine, triggering a series of allergic reactions that could affect the chemical substances, the respiratory system, the digestive system, the skin and the cardiovascular system.
Barak said that while the foods that cause food allergy in childhood are cow milk, eggs, soya, wheat, peanuts, peanuts, fish and shellfish; during adulthood same foods can also cause allergies.
Bardak stated that food reactions are divided into two groups and that in the first group there is no overreaction of any allergen and defenses in the first group and that the group is defined as "food intolerance" formed by other mechanisms and the second group is hypersensitivity and reactions shown in foods through immunological defense system.
Bardak: Pay attention to food labels
"What should be done to get rid of food allergy awareness and food allergy is the most sensitive point, if you have been diagnosed with food allergies, you should remove your allergic food from your life," said Bardak.
Bardak stated that it should not be forgotten that this is some of the tricky points to pay attention to. Bardak recommended and stressed that "Ask a dietitian. Your dietician will not only give you information about the food you are allergic to, but at the same time it will help you to provide a variety of food without your nutrition plan". Bardak said, "Pay attention to the nutritional label, because the food you are allergic to reacts not only when it is consumed but also when it is in another food, it causes the same reactions in your body, so you should read the food labels carefully and buy the foods you are allergic, If you have a product that you have bought over and over again, you must always make sure that the label is in sight because the content of the food may have been changed".
Symptoms of food allergies
Bardak summarized these findings, saying that food allergies can be found in different functions or organs:
Skin: itching, burning, redness, fever, chills, tingling, sweating, urticaria, swelling of water, red spots, the formation of acne.
Ear, nose and throat: nasal obstruction, sneezing, nasal pruritus, continuous runny nose. Sore throat, pain in the throat, dryness or tingling, itching in the palate, dry cough. Head tinnitus, blockage, pain, moderate deafness, dizziness and irregularity.
Eyes: Blurred vision, pain in eyes, irritation, strabismus, disturbed by light, twitching in the eyelid, itching, redness and swelling.
Respiration: Shortness of breath, wheezing, cough, mucus formation in the bronchi.
Cardiovascular: Heart palpitations, increased pulse rate, irregular pulse, flushing, wilting, fever, chills, tingling, redness in hands or blurred, fainting, pain in the vertebrae.
Gastrointestinal system: Difficulties such as dry mouth, increased saliva release, canker sores, wheezing, dental pain, nausea, indigestion, nausea, vomiting, difficulty swallowing, irritability, pain, cramps, diarrhea, pruritus or burning.
Musculoskeletal system: Fatigue, muscle weakness, pain in joints and muscles, tension, chest pain, back pain, spasm in neck muscles.
Nervous system: Feeling different from other people, words like headache, migraine, continuous sleep state, dizziness, slowness, stagnation, dullness, malaise, seriousness, crying attacks, tension, anxiety, hyperactivity, restlessness, irritability, Forgetting their names or numbers, stuttering, etc.