EUL Operating Room Services Application Laboratory opened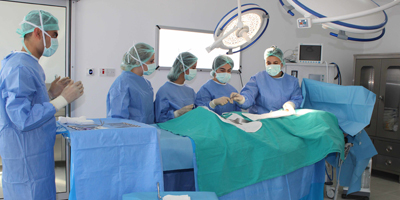 Prof. Dr. Deniz Şelimen, Director of European University Lefke (EUL) School of Health gave information about the Operating Room Services Practice Laboratory in the university which health students have applied and paid attention to the vital importance of operating the surgery.
Şelimen said that clinical care is very important in health sciences, which serves humanity. The surgeries where the surgical procedures are performed also have a vital prescription, Selim said. Operation rooms play an important role in reducing the problems and complications that arise during the operation as well as post operation.
"Today, the vast majority of hospital infections are surgical site infections resulting from the operation. For this reason, it is necessary to be extremely brittle in raising the human power to serve in the operating room environment, such as surgical nurses, operating theater and anesthesia technicians" Şelimen said.
"But the inadequacy of clinical areas, the large number of students, and the need to prevent patient safety and surgical site infections in patients with operative disease are obstacles to the development of this human power in the clinical setting," said Selman. So again from the perspective of patient safety, it is necessary for students to virtually experience a pre-clinical operating room environment.
Informing about the Operating Room Services Application Laboratory established within the Faculty of Health Sciences of the European University of Lefke, Şelimen explained that the laboratory is the model closest to the reality and that the students thus are trained to help understand the operating room environment before the hospital applications, understand the operating room techniques and sterilization disinfection process, experience the operating room process in accordance with the reality. Lastly, Şelimen added that students in the laboratory with camera connection to the nursing laboratory will be able to use the interactive application with more efficient monitoring and question-and-answer methods.