EUL Psychology Department Academic Direktör drew attention to the importance of psychological support in the fight against substance use and addictions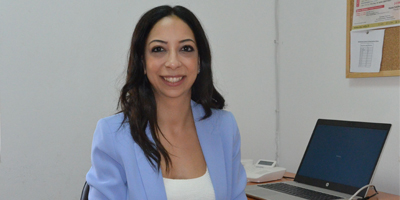 European University of Lefke (EUL) Department of Psychology Faculty Member Asst. Prof. Dr. Cemaliye Direktör made statements about the fight against "substance use and addictions".
"Whether for curiosity or for tackling challenges, a single substance use is a step enough to embark on a path that is difficult to change. Substance-related disorders and addictions are both individual and societal problems. There are periods when the individual is swept away in a vortex with the same psychological problems they bring with them, when they do not use it and receive treatment. However,  Direktör, who says, "Nothing will happen at once", will return to the place where you started with that one step," says the Direktör, when the person feels depressed, he uses substances to feel better, then when he first feels good, then he feels depressed again with a more depressed state because he does not really solve the problems. "He continues to feel and his problems with those around him grow," she said.
"Behavioral addictions are at least as important a problem as substance use today"
Direktör said, "As the problems increase, the problems increase, as the problems increase, the substance is used. So the vortex gets bigger and bigger. At this point, social support is very important in treatment. Instead of ignoring the problem, the real cause of the problem should be faced and realistic solutions should be found by accepting it. Substance use is not a problem that can be solved alone. Professional support must be sought. Addiction, of course, is not limited to just the substance. Behavioral addictions are at least as important a problem as substance use today. This contingency, which is particularly accessible, makes it part of a more serious problem. Although gambling is given as an example, it is not limited to gambling. Being intertwined with technology, increasing interest in virtual money, and the transfer of games to the virtual environment have also diversified the addictions.
"By establishing a healthy communication with your child and respecting her, we can resist all psychological problems"
"Substance use and addictions have become more common day by day and unfortunately the age limit has also decreased, so it has become more important than ever to do prevention rather than treatment, and many "psychological problems" have become invisible with the closure of schools. . Psychological support opportunities have become more limited. On the other hand, being closed did not make it difficult to reach the substance. In this regard, the family is at a critical point," said Direktör and to establish a healthy communication with his child, to respect him, to really listen to what he has to say, to try to understand him, to accept him, to make him feel loved, to trust that he will always be there when he encounters a problem. He pointed out that it can protect not only against addictions but also against all psychological problems. "With the pandemic, every individual has felt stuck, bored, angry and anxious, but as always, children and adolescents need the guidance of their parents. But the child must choose his own path. Respecting this decision will make it bigger and stronger."
Saying, "Families who read the news about the article and are afraid to say, "Oh, my child won't do it," and families who deny that "my child will never do it," should show the courage to face themselves, Direktör touched upon the following issues in his statement; "Any individual can use substances. Each individual may have problems that they cannot solve. Not being able to see it, not wanting to see it creates the real crisis. There are no perfect parents, nor do the parents of a substance abuser have to be bad parents. To prevent it, children and adolescents should be talked to. Observation is very important, but it should be done without violating personal space. Get to know their friends, spend time with them, but remember that you are not a member of that friend group. Enjoy spending time together instead of trying to be friends. Avoid strict rules, give him the opportunity to express himself. Even if you use it then, you have a chance to solve it. Trust your child, but do not treat him like an adult or leave him alone, nor protect him from all the evil in the world. To avoid it, first confront your own feelings and always talk to him."