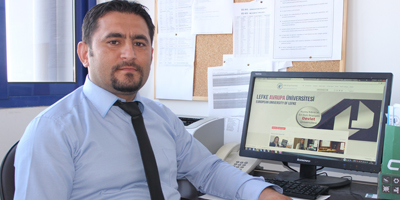 The European of Lefke (EUL) was represented in the 42nd Industrial Electronics Conference (IECON2016), which took place in Florence, Italy, and attracted over 1,500 researchers from more than 50 countries. Assist. Prof. Dr Samet Biricik participated in the conference on behalf of EUL Faculty of Engineering, Department of Electrical and Electronics Engineering and presented a research on "Photovoltaic Grid Connected Three Phase Inverters with Active Power Injection and Reactive Power Compensation".
Biricik, giving information about the conference he attended,  stated that the Industrial Electronics Conference is held every year by the Industrial Electronics Society (IES), the Institute of Electrical and Electronics Engineers (IEEE), headquartered in the United States, is one of the leading conferences in the world.
Birick expressing that the power electronic phase was designed in the European University of Lefke added that electronic control system was developed under the leadership of Prof. Dr. Hasan Kömürcügil- the Faculty Member of Eastern Mediterranean University, which later in February 2016 the experimental studies were conducted in the power systems and power electronics laboratory of Institute of Technology, Dublin. Biricik added that the study was developed in two years, as the development and prototyping of the study is yet continuing.
Biricik briefing about the presentation, said that the grid-powered solar inverters currently in use do not transfer electrical energy to the system, but the reactive powers that the plant draws are destroying harmonic currents that occur with consumer electronic devices, without the need for an additional compensation panel thus a new solar energy inverter that increases the quality of electricity is presented.