EUL Social Services Department raises "Social Workers"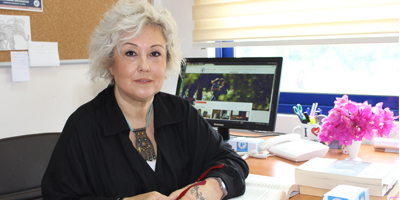 Professor Dr. Sengul Hablemitoğlu, the Head of the Social Services Department of the European University of Lefke (EUL) Health Sciences Department, stressed that social service education in EUL is proceeding with solid steps and stated that the Social Work Department will give its second term graduation at the end of the 2016-2017 Academic Year.
Hablemitoğlu said that the purpose of social work education is to train "social workers" who contribute to solving problems, strengthening emancipation in social change, and human relations in order to improve the quality of life of the individuals, families, groups and society. Moreover, Hablemitoğlu added that the language of education of the Social Services Department is Turkish and that they are happy to have started the graduate program with social work thesis for the first time this year.
Referring to the department's curriculum, Hablemitoğlu expressed that the courses were composed of basic social sciences in the first year and behavioral sciences, social service methods and techniques and field applications in the second, third and fourth classes. Stating that the students have the opportunity to practice at different social service institutions and organizations in the Turkish Republic of Northern Cyprus and Turkey, Hablemitoğlu said that they are trying to connect the students with the social service institutions in the TRNC and to increase their awareness for more efficient and effective education of the students.
The goal is to raise exemplary social workers with the principles and justice
Hablemitoğlu stated that it is important to organize an effective social service in the TRNC to serve the people of the island. Hablemitoğlu said that social services departments of the Social Services Department carried out various social service activities of the children's home and rehabilitation centers, family support and youth training centers and that hospitals are an important work area for social work graduates.
Hablemitoğlu said that the objectives of the Social Services Department is to develop social projects to ensure that the human rights and social justice principles are adopted, that they do not compromise the ethical principles of the social work profession and are open to innovation through a lifelong learning mentality, and that they can follow developments in their field and live with theoretical knowledge in an entrepreneurial manner and also to train exemplary social workers.