EUL students carried out the "Colored Hands" project for Yedidalga Primary School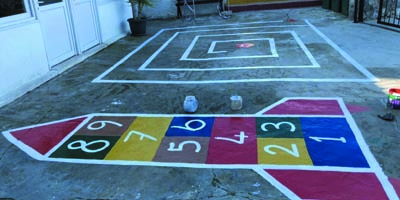 European University of Lefke (EUL) Dr. Fazıl Küçük Education Faculty Psychological Counseling and Guidance Department students carried out a social responsibility project named "Colored Hands".
The project carried out by EUL students Oğuzhan Baki Deveci, Onur Utku Ergün, Feyyaz Yaldız, Halil İbrahim Kutlar and Gökhan Yenilmez was made for Yedidalga Primary School.
Students who gave information about the project stated the following; "With this project, we are proud to transform the classroom and school environments of our little stars into a more spacious and colorful one and to know that we are the ones who accompany their dreams. The aim of the project is to make a small contribution to their imagination and to take part in it. After the necessary project draft was prepared, the necessary arrangements were made in line with the deficiencies after contacting the Yedidalga Primary School Manager, who was involved in the project, and obtaining the necessary permissions.