EUL students draw attention with their projects that set example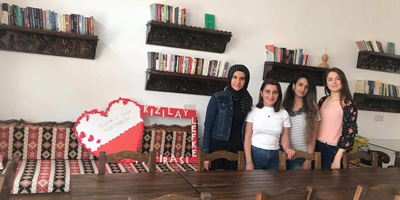 Students established a library for the Turkish Cypriot Red Crescent Lefke Branch
Students of European University of Lefke (EUL) Dr. Fazıl Küçük Faculty of Education conducted another meaningful project and established a library for the Turkish Cypriot Red Crescent Lefke branch under the framework of their Social Services Practices course.
Chairperson of Pre-School Teaching Department Assist. Prof. Dr. Çağda Kıvanç   gave information about the Social Service practices and said that with each project planned, they first determine a theme and try to meet the need within the framework of this theme.
Çağanağa pointed out that with the project titled "My Library is in Red Crescent" they handled the themes of social sharing and learning and added that the categorizing and sorting of the collected books in a short period of 3 months was carried out by the students.
Bookmarks designed to encourage reading
Caganaga said that they designed bookends in order to encourage reading in the community and added that the bookmarks will be presented to everyone who visits the library and borrows a book. Pointing out that Library was established after the Turkish Cypriot Red Crescent Lefke Branch building was organized by the students, Çağanağa said that they try to address different segments of the society with each project and that they will continue to contribute to the society in education, culture and social fields with different social responsibility projects.