EUL Students had been Informed about "New Trends in Tourism"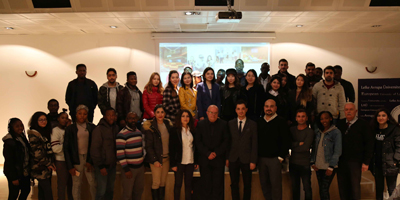 European University of Lefke (EUL) School of Tourism and Hotel Management Department of Tourism Management organized a seminar themed "New Trends in Tourism". Ünsal Şınık who has worked in hotels such as Etap Group of Hotels, Dedeman Group of Hotels and who is now the Director General of Elite World Group of Hotels shared the new trend of the sector from the past until today with the students of the EUL.
Şınık conveyed information about "Digital Transformation" and its use, which have started to gain importance in the hotel, hotel area and Tourism Industry in the recent years. He also explained what kind of equipment and equipment should be used by qualified personnel who will be able to use the relevant digital technology in the near future due to this transformation and gave examples from his Group of Hotels in relation to the Toursim Sector and digital transformation.
Pointing out that one of the first sectors in the digitalization train is the Tourism Sector, Şınık said that this technology was first used in air transportation, agency and sales channels and that the application area in tourism was initially limited to digital marketing. Afterwards, Şınık explained with examples that digital systems are being used especially in hotels and buildings in addition to digital marketing in hotels.
Şınık stated that within this framework, in the present century, in parallel with the increasing use of digital technology in many sectors, the institutions and organizations within the Tourism Industry, including travel, accommodation, food, beverages and transportation, started planning and investments for the future. Şınık further said that it has been observed in recent years that people traveling, both for holiday and business, have begun to choose to stay in digital comfortable hotels that they use and are accustomed to in their homes and cities.
Şınık also underlined the necessity of learning digital technology will be used intensively in all sectors of Tourism Industry in the following years after university education, taking special courses related to this field and being in touch with institution that offer these trainings for students and added that they should also have the command of two other languages apart from their native languages.
The seminar was concluded after Şınık answered the questions of the students.