EUL's Department of Civil Engineering designed a "Shaking Table"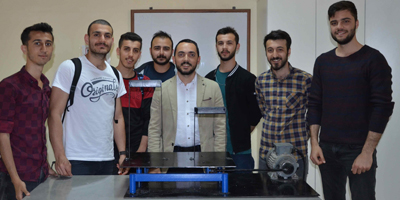 It will be used in Earthquake Simulations
European University of Lefke Department of Civil Engineering designed a shaking table to be used for educational and research purposes in the field of earthquake engineering.
Academician of Civil Engineering Department, Civil and Earthquake Engineer Assist. Prof. Dr. İsmail Safkan pointed out that shaking tables, also known as earthquake simulation devices, which are used in many branches of earthquake engineering, are of great importance today and added that the shaking table designed by the Department of Civil Engineering to be used in scale tests is being used in laboratory studies.
Underlining that our country is on the seismic belt, Safkan stated that according to the conducted studies it has been revealed that the buildings in the T.R.N.C have a serious risk. Safkan further stated that as EUL Department of Civil Engineering, they designed a shaking table to be used in earthquake simulations in order to minimize the losses and help the studies in the earthquake area.
Safkan also said that the shaking table, which is planned to be used in both ground and superstructure areas of earthquake research, will also be used by the students in applications that will support the education process and added that this single axis shaking table with 100 kg load capacity and operating properties in the range of 0-50 Hz is the first in the T.R.N.C.