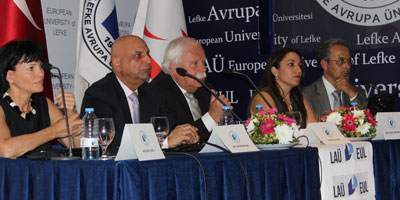 World Tourism Education has been tackled in EUL
EURHODIP Board Annual Meeting and "Tourism Education" entitled panel have been realized under the host of EUL.
In April 14-15 2016, European University of Lefke (EUL) had contributed to an important activity by hosting " Tourism Education" entitled panel and 2016 Board meeting of International Tourism and Hospitality Schools Association (EURHODIP) which is one of the important establishments of Europe.
The panel, which has been organized in 15th April Friday by Tourism Management Department of Tourism and Hospitality Management College of EUL at EUL Rauf Raif Denktaş Education Complex Conference Hall, has been realized with the participation of Ministry of Education and Culture, and Ministry of Tourism and Environment officials, university administrators and academicians, Tourism Vocational High School Representatives, Lefke Municipality and civil society organizations. In the panel, where Head of the Department of Tourism Management of EUL Assist. Assoc. Dr. Tahir Yeşilada has been the moderator, Chairman of the Board of EURHODIP Drs. Cees Van der Klip (Netherlands), Dr. Shyam Patiar (Britain), Ms. Helena Cvikl (Slovenia) and Tourism and Hotel Management Instructor of EUL Nafiya Güden have given detailed information about tourism education in the world. In the panel, where the importance of tourism education in different parts of the world has been emphasized, speakers have pointed out the Tourism and Gastronomy Schools' contributions to Countries' economy and development, the example of the Maribor Tourism and Catering School in Slovenia, European Union's various projects and opportunities that provides to Tourism Schools, comments and suggestions about the importance of Higher Education and Training in TRNC.
EUL is a member of EURHODIP
EURHODIP, which has EUL's Tourism and Hotel Management School within and has 156 Gastronomy and Tourism Schools from various countries of the world as members, has realized its first foreign panel that is outside of its center in TRNC with the lead of EUL. Since 2011, Tourism and Hotel Management Instructor of EUL Nafiya Güden is representing TRNC and EUL internationally by maintaining Board General Secretary task in EURHODIP, who does internationally conferences and panels about 'Tourism Education', international 'Tourism Students Change' programs, various competitions about 'Gastronomy and Tourism', organizes events and plays counseling role for all the member schools.
Egemen: It makes us proud to host EURHODIP's international panel
EUL Tourism and Hotel Management School Director Assist. Assoc. Dr. Mehmedali Egemen, who gave information about the organization that has been coordinated with the cooperation of EURHODIP and EUL, has stated that as a college, it was very pleased to host globally important tourism organization's chairman and board members in Turkish Republic of Southern Cyprus. Egemen, who said that it makes them proud to host such an international panel of the organization as a member of EURHODIP which has institutions within it that give accommodation education, drew attention that the panel and meeting are an important organization privately for EUL academicians and students to put on information and experience, and generally for TRNC universities' introduction.
Egemen, who emphasizes the importance of EURHODIP membership for catching the international quality and standards in tourism education, has pointed out that the chairman and the members of such serious institution are realizing various worldwide works in order to contribute to tourism education, thus, EUL also has done important contributions about tourism education by hosting this organization.
Van der Klip: We are always ready to cooperate with EUL
Chairman of the Board of EURHODIP Drs. Cees Van der Klip has mentioned that the panel went very efficient and has stated that they were pleased to be hosted in EUL. Van der Klip, who stated that EUL had successful works about tourism education by caring it, has mentioned that Lefke is a place that shelters peace within it besides the natural and historical beauties.