European University of Lefke Faculty of Communication Sciences organizes a series of events in May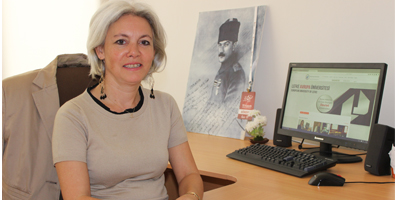 "Communication Days" from EUL Faculty of Communication Sciences
European University of Lefke Faculty of Communication Sciences organizes a series of events called "Communication Days". The events that will take place in May will take place online.
Providing information about the events, European University of Lefke Communication Sciences Faculty Dean Prof. Dr. Elif Asude Tunca, "May is an important month in terms of communication … May 3, World Press Freedom Day … May 6, 1927, the first radio broadcast in Turkey … We, as the Faculty of Communication Sciences, cover the month of May in the light of these important dates and we wanted to organize a series of events called 'Communication Days' ". Prof. Dr. Tunca emphasized that the events will take place online and invited everyone interested in communication to watch their activities and contribute with their questions and comments.
Events that will take place via Microsoft Teams. It can be reached via the link. https://teams.microsoft.com/l/channel/19%3ac3030e5e7f6b488f8182545cb726a18b%40thread.tacv2/Genel?groupId=1de0ceb5-5a97-43bc-b810-ee0bf45e37e1&tenantId=0d04761a-06d5-44fd-9fbf-1ce5981114f2
The first of the events, in which different fields and dimensions of communication science will be discussed, was held on the subject of public relations on Tuesday, May 5th. Faika Öznaçar, owner of the PR Island Public Relations Agency, was the guest of the talk on "Public Relations During the Pandemic Process".
The "Communication Days" event program organized by EUL Faculty of Communication Sciences is as follows:
Conversation with Radio Güven Programmer Taner Gönül on radio broadcasting and its importance as part of 6 May Radio Day on Thursday, May 6 at 14:00.
Panel with Journalist Serhat İncirli, Journalist Hasan Hastürer, Journalist Hasan Erçakıca and Lawyer Şahap Tokatlı on "Press and Freedoms" on May 3, Monday, May 10 at 14:00.
Conversation with Cartoonist Mustafa Tozakı on Tuesday, May 18 at 14:00 – workshop
Interview with Pulitzer Prize-winning Turkish Journalist / Photojournalist Murad Sezer on Saturday, May 22 at 14:00