Gastronomy students represented EUL in "International Cookery Camp"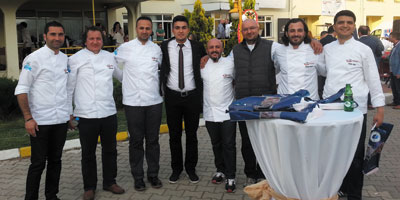 Nadir Kalaycı and Beyza Yağmur Koldemir, who are the students studying at the European University of Lefke (EUL) Gastronomy Department, presented EUL in the "1st International Cookery Camp", which was held  for the first time in Gastronomy fiel in Turkey .  The students in 35 universities from Mengen district in Bolu participated in the activities, which were organized by Mengen Cooking School Graduates Association (MCSGA) (Mengen Aşçılık Okulu Mezunları Derneği-AŞOMDER).
The activity, in which various conferences, panels and pragmatic trainings took place, was organized with an attempt to provide positive contributions to educators' and students' career developments, who are in "Culinary", "Gastronomy", "Gastronomy and Culinary Arts", and "Culinary Arts and Management" departments and Turkish cookery education, by bringing them together and extending their visions with varied activities.
EUL students, who thanked to EUL Rector, Prof. Dr. Mehmet Ali Yükselen and the director of the School of Tourism and Hotel Management, Assist. Prof. Dr. Mehmedali Egemen, expressed that the "1st International Cookery Camp" gave necessary information and skills to the students much more than they expected.  Gastronomy students, who stated that they found themselves in an international body by participating this kind of activity, pointed out that another advantage beside the given practical education is that the education language is English.  Students, who remarked that all of the educators who provided training as part of the activity, are at the top of the list in their professions with their knowledge, skill and experiences, wished that such kinds of activities are beneficial and due to this they should be traditionalized.