A Giant Project from EUL: Amphitheatre Buildings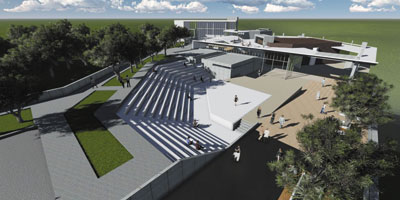 European University of Lefke strides confidently towards the goal of being the best on its 25th Anniversary with its rapid development, the significant increase in the number of students, the infrastructure of the campus, which was strengthened, academic staff, newly opened faculties and departments, which it has demonstrated in the last 15 months.
The construction of amplifier buildings, which will be prestige building of EUL, has been started.
Amplifier Building and the central classrooms building, with which different architecture, are being built in about 5200 square meters.  The Building consists of venues, which are 350 people fully equipped theatre, 250 people conference room, 6 units of 100-seat seminar hall, 2 different cafes which can at the same time serve 100 people, 800 people outdoor EUL Graduation Amphitheatre, offices of Faculty of Law foyer, terrace foyer, social reading area and an inner garden, disabled-friendly accessible buildings, VIP room, and social public outdoors.
"Virtual courtroom" is also included in the new Faculty of Law Center, for students to be able to practice theoretical knowledge that they have learned in the course without difficulty.