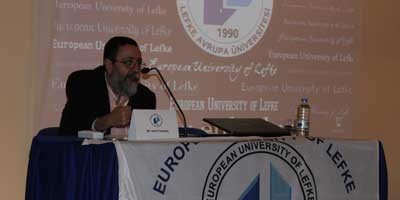 A conference titled "Global Issues" was held with the cooperation of the Office of the Dean of Students and the Environment Club. Dr. Halit Kılınç attended the conference held at EUL Cinema Hall as a speaker.
Kılınç said that the balance of the nature is delicate and in case this balance is disturbed, adverse chain reactions can be provoked. Stating global warming as being one of the most serious environmental disasters, Kılınç said that the main reason of the global warming is humans. Kılınç also pointed out that acidity level of the seas have increased due to global warming and, corals being in the first place, many living creatures have died out.
Kılınç emphasized the fact that climate and natural changes are being experienced due to global warming and added that all countries should work in collaboration to prevent this and works to this end should immediately be initiated.