Globalization and Economy Policy of the Media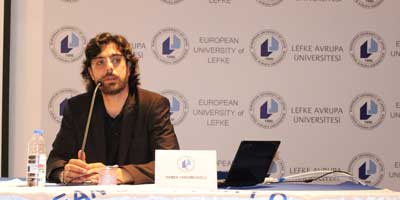 A conference titled "Globalization and Economy Policy of the Media" was held by the EUL Thought Club. Journalist-author Hamza Yardımcıoğlu attended to the conference organized at the Rauf Raif Denktaş Conference Hall.
Yardımcıoğlu addressed the globalization process and its relation with the media. He also mentioned current events and stated that media is not independent enough almost anywhere in the world during the conference in which media and politics relation was discussed.
In his speech, he said that there are three fundamental revolutions in the history of humanity; namely, Agricultural, Industrial and Communicational Revolutions. "Experts say that communicational revolution took place in the last century" said Yardımcıoğlu and added that the process of that revolution dates back to ancient civilizations and it can easily be witnessed in various historical researches.
"Media has to be independent, but this independence should never inhibit others' independence" said Yardımcıoğlu and provided some examples from the history on how media is used as a means for propaganda and manipulation.