Güngör: The main cause of diabetes is decreased physical activity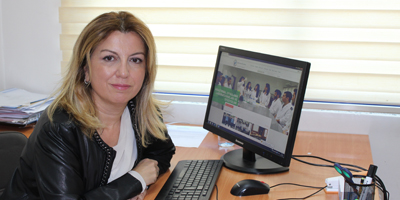 EUL Faculty Member emphasized on healthy lifestyles in individuals who are at risk of diabetes.
European University of Lefke (EUL) Faculty of Health Sciences Faculty of Nutrition and Dietetics lecturer, Dietitian Asst. Prof. Dr. Anıl Evrim Güngör pointed out that the "14 November World Diabetes Day" emphasized on the fact that diabetes is increasing worldwide and even amongst pre-school children.
Güngör has characterized "Diabetes mellitus" as complete absence of insulin hormone secreted by pancreas, insufficiency or inefficiency, or structural disorder of the hormone, characterized by high blood sugar; caused due to disorder of carbohydrate, lipid and protein metabolism and linked to socially known diseases of eyes and kidneys. Noting that diabetes increases rapidly all over the world, Güngör explained the main cause of this increase as a result of population increase, change of lifestyle brought by aging and urbanization, and decrease of physical activity. Güngör also noted that Type 1 diabetes increased in many children in many societies and that this increase was higher in pre-school age children.
Güngör explained the conditions leading to diabetes: obesity, presence of diabetes in first-degree relatives, birth of a larger size baby or sugar history during pregnancy, rise in hypertension and increase in low density lipoprotein (LDL) and decrease in high density lipoprotein (HDL) and also the presence of health problems with insulin resistance and due to early-onset cardiovascular diseases.
Healthy living reduces Type 2 diabetes risk
Güngör emphasized that healthy lifestyle changes in individuals at risk of diabetes reduced the risk of Type 2 diabetes by 44-58% and listed them as follows: It is necessary to consume brown bread, rye bread or whole wheat bread instead of white bread instead of white bread, in order to keep the blood sugar balanced and regularly, not to be hungry for a long time, to apply a diet consisting of 3 main meals and 3 intermediate meals. It is important to consume at least 2-3 servings of dry legumes per week, not to skip meals, and consume milk, yoghurt and ayran as a secondary food intake beside the fruit for these meals. It is significant to avoid eating meat products with their skin and fats and either boil or grill them before consumption while staying away from eating fried foods. Besides this, keeping distant to consume light products and instead eating low calorie foods is essential. It is important to include prepared food using a healthy cooking method. It is necessary not to consume ready-to-eat foods, to stay away from sugary foods, and to make these foods a lifestyle in consumption and to conduct physical activity on a regular basis.
Güngör said: "You can keep your blood sugar and blood oils in the desired limits with Diabetes Treatment." By reaching the ideal body weight suitable for your body size, you can reduce the health problems that can lead to diabetes by balanced, regular nutrition and adequate exercise by protecting this weight ". Güngör also remarked that diabetes mellitus may also cause cardiovascular disease, resulting in blockage of the brain vessels, vital organs such as kidneys, end-stage renal failure, calamity with increased sugar content, and permanent damage to the eyes.