"Individual and Social Dimension of Farewell" discussed at EUL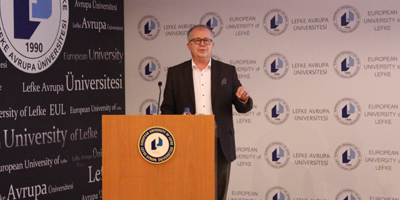 "Individual and Social Dimension of Farewell" themed conference was organized by European University of Lefke (EUL) Students' Dean Office and Psychological Consultancy and Guidance Club. Psychologist, Educationalist and Author Ali Orhan attended the conference which took place at EUL Rauf Raif Denktaş Conference Hall as a speaker.
Orhan: In the absence of farewells, individuals would be stuck in the past
Pointing out the importance of farewell, giving a break and mourning in protecting human health, Orhan described the concept of "farewell" as wishing healthiness to someone while leaving and leaving someone or somewhere that is loved. Orhan stressed that, in the absence of farewells, individuals would be stuck in the past and they would not be able to do plans for the future, and they will experience emotions such as anger and disappointment intensely.
Orhan stated the obstacles that stands in front of farewells as; negative experiences, traumas, losses, ongoing mourning processes, physical appearances, failures, sense of worthlessness and negative self-perceptions. Orhan said that there are two magical statements of farewells and stated these as "goodbye" and "bye bye".
Orhan gave some examples of farewells and described these examples as, leaving home, saying good bye to oneself, leaving someone and saying good-bye, leaving partner and death. Orhan pointed out that the action of leaving home can be divided into two as a short separation and a long separation, and added that saying goodbye to one self, starts with birth and ends with death, and said that leaving someone can be described as separation from family, lover, friend or partner.
In his presentation Orhan emphasized the themes; "death as the greatest goodbye in farewells", and "is separation the greatest death or is death the greatest separation".  Orhan gave examples to saying goodbye to somewhere as; leaving home, village, neighborhood, city or wok and gave war, political, work life and historical farewell examples at the end of his presentation.