Industry representatives and EUL Academicians came together at the Engineering Chambers meeting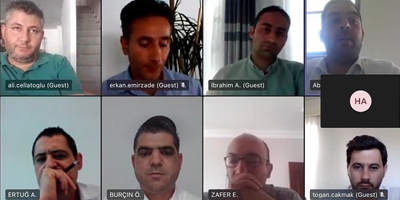 European University of Lefke (EUL) Engineering Faculty and Engineering Chambers online consultation meeting was held. At the meeting, after the introductory presentation of the training programs by dean of the Faculty of Engineering Prof. Dr Hüseyin Ademgil, the opinions and suggestions of the chamber representatives and the relevant department heads were presented. Gürkan Yağcıoğlu and Abdullah Ekinci representing the Chamber of Civil Engineers, Erkan Emirzade and Togan Çakmak representing the Chamber of Computer Engineers and Ali Murat Cellatoğlu and İbrahim Aysal representing the Chamber of Electrical Engineers attended the meeting.
In the meeting that took place, online education process, practice courses, internship and field studies, accreditation studies of engineering programs, expectations of the industry, expectations of professional chambers from universities and other current issues were discussed.
In addition, chamber representatives conveyed the expectations of the chambers from universities to the relevant department heads in order to keep up with the updated standards and the times. Dean of the Faculty of Engineering Prof. Dr. Huseyin Ademgil said, "The updates made in the programs of our faculty and the content studies were examined and feedback was received from the representatives of the chambers"and also informed that in order to increase the social awareness and professional development of students, courses such as environment and sustainability, leadership and management have been added as free elective courses to the curricula. Chamber representatives, on the other hand, talked about the importance of doing internships in workplaces with ISO certificate, and mentioned the importance of being aware of the relevant legal legislation in the field of post-graduate project management, tender technical specification preparation and evaluation, and especially engineering.