"Karaoke and Dance Night" organized at EUL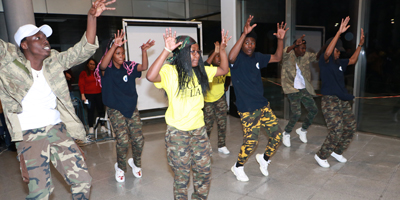 European University of Lefke Centre of Social and Cultural Activities organized "Karaoke and Dance Night" as an addition to the activities held under within the scope of 2019-2020 Academic Year Spring Term orientation program aimed at the foreign students.
Students' performances were appreciated in the night when foreign students performed karaoke with their own cultural music. In addition, the students had the opportunity to have pleasant time with dance performances in the night.
The students expressed their views about the night as follows;
Asfund Yar Hussaın Jadoon; I came from Pakistan and I am studying Civil Engineering. Activities in the orientation program help us adapt to our university. Also, these activities became an important motivation before starting our classes. If I have to state my thoughts about EUL, campus life offers good opportunities for students.
 Madına Lakhno;. I am from Kazakhstan; I am an architecture student. I liked the event tonight. I hope such activities will be held frequently. I also sang tonight and it was so much fun. I find the activities very necessary for our adaptation. The fact that students from many different countries study at our university was an important factor in my preference.
Praıse Peter Adeotı; I am from Nigeria and I am studying in Computer Engineering. It was a very nice event. But the truth is, no matter which country and culture you came from, everyone came together with the unifying power of music. It was a great opportunity to mingle with other new students. We also came across with friends I met at the events in the dormitory and mingled with each other faster. I was very warmly welcomed at EUL. It is also very important for me to be an international university. The people here are very warm and helpful. I will try to make good use of the many opportunities that our university offers.
Farahrım Bıtar: I am from Morocco and I am a student in the Tourism department. I really liked and enjoyed the event organized for us. I feel lucky as I am an EUL student. EUL is a very good university.