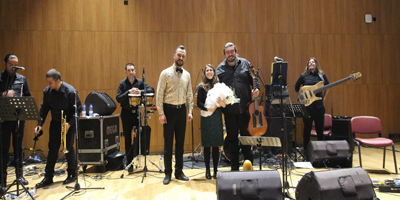 Latin Night Concert where the soloist was Arkın Sayar was held at EUL on December 27th Thursday Night at the Conference Hall of Faculty of Law with the cooperation of European University of Lefke (EUL) and Nicosia Municipality.
Songs such as "Donde Estas", "Ouien Sera", "Roxanne", "Chan Chan", "Hiç Bana Sordun Mu?", "Elbette", "Oye Comova", "Che, Her Yaşın Bir Güzelliği Var", "Ain't So shy", "Moliendo Cafe", "Fragilidad", "La Vida Es Un Carnaval" won recognition during the night. The Latin dance performance of the students of the EUL Latin Club took place overnight and was watched with interest by the participants and the students.
After the concert, Member of Board of Trustees of the European University of Lefke, Feral Uyumsal Burhan, thanked the group for their performances and presented a bouquet to İbrahim Çetiner on behalf of the Nicosia Municipality Orchestra.