"Local Products and Healthy Living" days started in EUL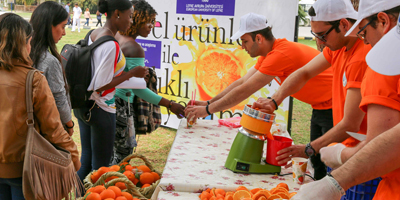 European University of Lefke (EUL) started with the distribution of Washington orange grown in the University's Research and Application Farm, during the first of the local products festivities organized on the days of "Healthy Life with Local Products".
Fresh orange juices prepared by Gastronomy Department students were given to the students at stands set up in two different places on EUL campus.
Students who visited the stands in the framework of the event voiced their thoughts and said:
Hacer Alp: I am a student in Psychology. I would like these kinds of activities to be held and organized in our school, I think it was a useful activity in terms of the presentation of your university. In addition, with the other products growing in Güzelyurt Research and Application Farm, they can create a brand on behalf of our school and present it to the sale.
Gonca Pürdik: My third year in EUL was such an activity for the first time; I have not witnessed it before. We can show not only orange but also other products that we produce by organizing various activities in school and in the region.
Çağla Çilesiz ve Elif Özdamar: We are a third year student at the Faculty of Health Sciences Physiotherapy and Rehabilitation. It is very nice to present our products to our students by arranging the activities of our production oranges. For the first time in our university we have organized such a different activity, Lefke is very rich in oranges, we are waiting for different activities, including Lefke and other products growing around it, and it can be strawberry. Especially when the oranges were decaying in the gardens, it was very nice to see them freshly picked off from the field and evaluated in this way for the students.
Yusuf Güvenal: I am a senior student at the Faculty of Health Sciences Physiotherapy and Rehabilitation. In an event like the Domestic Goods Week which is also practiced in Turkey, a nice activity of introducing and tasting Cypriot products to our school is telling the students how beautiful these products are with such activities. It is beneficial for health to present the most valuable products of the Mediterranean Climate and the oranges grown in the Faculty of Agriculture Sciences and Technology to us.
Yusuf Bozkurt: I am a Year 2 Psychology student. Such events are important in terms of gathering and integrating students. We were delighted to have our products delivered by our university through our gastronomy students and we were able to take these products from our colleagues, the absence of such activities in other universities and the fact that EUL is different from our school.
Kemal Çakır: It's my first year at school, I came here with the Vertical Transfer Exam and I am a first year student in Health Management. I did not have many friends when I first arrived. EUL brings the students together with the activities they organize, this is the difference of the school. Last week the club promotion activity was held, I was written in a student club and thanks to the club I got many friends. These activities are social activities for us, and it is a great and important thing for the students to get acquainted and meet, I want these activities to be continuous.
Çağlar Çelik: This event organized by our school was a social activity for us. We were happy to see oranges, a product of our university, being picked and prepared for us. A colorful program was nice and fun. There are big draws for bringing oranges for us in the event, so I would like to thank everyone for organizing the event.
Berke Karaca:  I am a junior student in the Faculty of Health Sciences Physiotherapy and Rehabilitation. As a health care provider, I would like to mention that it is very important to have an orangutan vitamin C store firstly, which is a useful nutrient for the orange body. I would like to congratulate my school for organizing this beautiful event and I wish these activities to be continuous.