Meaningful Bazaar Organized in EUL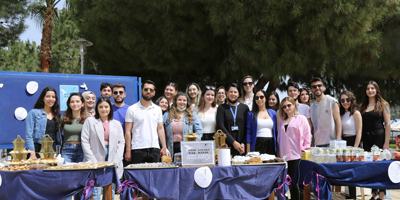 European University of Lefke (EUL) Social and Cultural Activities Center of the Psychology Club of the Social Responsibility Project within the scope of the Kizilay'a bazaar was organized.
Providing information about the Bazaar of the Psychology Club, the project manager Beliz Köroğlu stated that the bazaar organized with the support of EUL Social and Cultural Activities Center was organized with the theme of "No to War, Yes to Peace".
For the Kermes, the President of the Psychology Club and the psychology student Tarık Özkızılbulut, including all the members of the Psychology Club, tried to work hard and activity was carried out in the form of a day -long activity. He stated that, the food prepared by the Psychology Club students and they were sold.
Köroğlu expressed that the income obtained at the end of the bazaar, which was aimed to raise awareness, was donated to the Red Crescent and expressed his thanks to everyone who contributed to the bazaar on behalf of the Psychology Club.