"Microsoft Information Technologies" titled seminar has been organized in EUL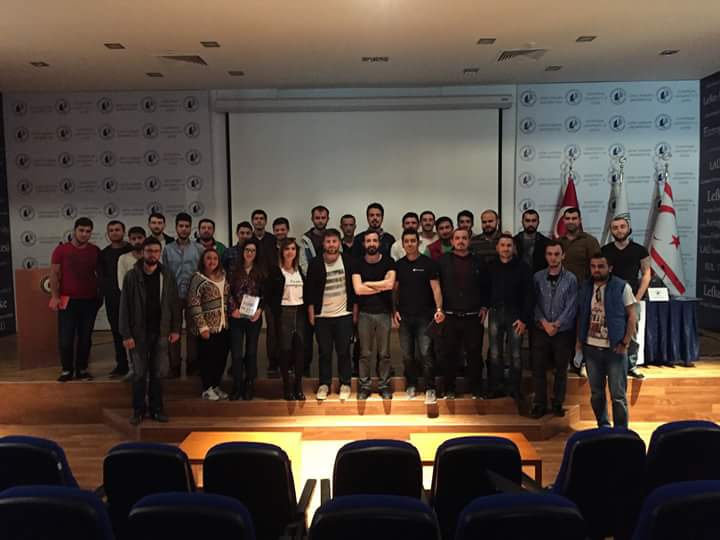 "Microsoft Information Technologies" titled seminar has been organized in EUL
"Microsoft Information Technologies" topical seminar has been organized by Student Dean of European University of Lefke (EUL) and Information Club. Hasan Dimdik, Seren İyidoğan and Ali Göklükay have participated to the seminar as speakers at EUL Rauf Raif Denktaş Education Complex Conference Hall. In this seminar, the speakers have presented presentations about career planning, job experience, new skills, professional connections, the importance of internship, managing mobile devices and the protection of the privacy of corporate data.
Dimdik: Need to know the sector well
In the presentation which Dimdik gave information about Operation Management Suite System Administration and Enterprise Mobility Suite to the students, Dimdik also mentioned that who works in this sector needs to know well about how to monitor, observe information technologies system and solve a existing problem of it. Dimdik also emphasized that while improving Enterprise Mobility Suite system, ensuring managing of mobile devices, protection of data, privacy of corporate data is a sensitive topic that requires professionalism.
İyidoğan: "Internship" is a required education process for students
İyidoğan has emphasized that internship is an education process that has to be taken serious by the student and the employer. İyidoğan has pointed out the importance of internship period in terms of to see how students will implement the subjects that they have learned in class and to make students accommodate to work life. İyidoğan has specified that internship is an important start for the students and the employer and that the students can turn the internship to their advantages. Lastly, İyidoğan has expressed that most companies are giving priority to the candidates that have done internship at their company.
Göklükay: People who use the popular languages will create difference
In the other hand, Göklükay gave information about pricing theories of software engineering, companies' approach to their customer based on companies' location and usage of 2016's most popular programming language in his presentation. Göklükay has underlined that to increase the job opportunities in technical information companies in future, people that will work in this sector needs to be fully equipped and have a career goal. Göklükay also added that in 2016 and after it, who uses the languages that will be popular will have an advantage in information technology sector.
After the seminar, certificate of appreciation has been given to the participants who answered the questions of the students by Head of Software Engineering Department Assist. Assoc. Dr. Ferhun Yorgancıoğlu.