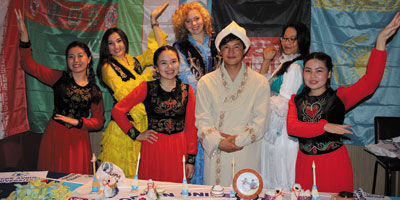 "Middle Asia Night" was organized for the Middle Asian students who study at EUL. At the event, which was held with the contribution of EUL International Office and Office of the Dean of Students, colourful shows accompanied by different music were performed.  The event, held between 19.00-23.00 at EUL Fun Club, started after the opening speech of Kezban Zurnacı, Director of the International Office, and the exhibition of Middle Asian countries' natural, cultural, historical, touristy places and traditional clothes.
Students from Azerbaijan, Kyrgyzstan, Kazakhstan, Turkmenistan, India, and Bangladesh performed various dances and plays accompanied by music peculiar to their cultures during the night.
The students who got the attraction for their performances were appreciated by the overseas students who attended the event.  Students who performed at the event were given a Certificate of Attendance by the International Office and the Office of the Dean of Students. Later on, students had the chance to enjoy the night with a DJ.