Mongolia Independence Day Celebrated at EUL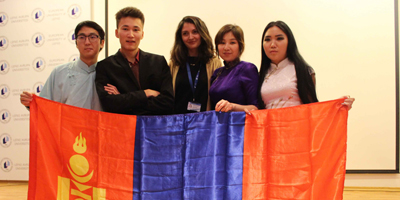 Mongolian students of European University of Lefke celebrated their homeland's national day at the organization held at EUL.
Staff of EUL Student's Dean Office and International Relations Directorate, and students attended the organization themed "Mongolia Independence Day" organized by EUL Student Deanery.
Organization which took place at EUL Rauf Raif Denktaş Education Complex Conference Hall started after the speeches indicating meaning and importance of the day. Slide shows displaying the natural, historic and cultural beauties of Mongolia were made.
Students expressed their thoughts and feelings about the organization as follows;
Dulguwan Enxhbat: I'm a first-year student at the Department of Economics. This is my first time in such an organization. It was very flattering for me, our university makes us feel important with offering such opportunities. I am very happy to introduce our culture and national day to our friends from other countries we will try to maintain continuity of such organizations in the following years.
Mijhel Nomindan: I am from Mongolia, I am a first year student. We have organized this event in order to promote our culture and our country at EUL. I am very happy in Cyprus, I love it here. I would like to thank EUL for this good organization.
Zun Ganbold:  I am a second year student at The Department of Management Information Systems. It was a better organization than I expected. It is very important to introduce our own culture to our friends. I would like to thank European University of Lefke for providing us with such a facility.