New Variant of SARS-CoV-2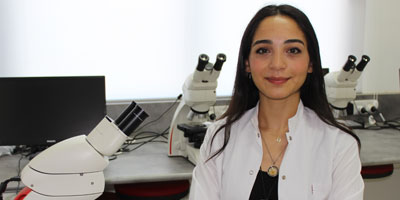 European University of Lefke (EUL) Faculty of Health Sciences Faculty Member Medical Microbiologist Asst. Prof. Dr. Yağmur Ekenoğlu Merdan gave information about the New Variant of SARS-CoV-2.
"Many studies on the SARS-CoV-2 virus, which was the cause of the COVID-19 epidemic, which first appeared in Wuhan, China in December 2019 and was declared as a pandemic by the World Health Organization (WHO) on March 11, 2020. continues. "In addition to vaccine and drug studies, mutations in the virus, which may affect the progress of the epidemic, are constantly being investigated and followed up," says Merdan. She stated that the news that the coronavirus has mutated has spread all over the world recently and British Health Minister Matt Hancock has announced that a new SARS-CoV-2 variant has been identified. "Preliminary analysis shows that this variant may be associated with recent increases in cases in the UK. Variant mutations and spread were monitored, as the incidence of the variant was of increased concern. The variant was first spotted in September and is of UK origin. There are hundreds of SARS-CoV-2 lineages, and normally there are mutations in each lineage set. However, it was determined that there are interesting mutations in this new lineage set named "B.1.1.7" spread in England, "said Merdan, and stated that some of these mutations were not new, they were seen before and these new variants may have originated from England long before.
"This new variant is called VUI-202012/01 and carries a number of mutations, including the N501Y mutation, in the receptor binding genome of the spike protein that the virus uses to bind to the human ACE2 receptor. It has been previously demonstrated through laboratory experiments that the N501Y mutation can bind to the ACE2 receptor better and can be transmitted to cells and mice more easily. Changes in the spike protein can cause the SARS-CoV-2 virus to become more contagious and spread more easily among humans. The R value for this variant is thought to be increased by 0.4, or 70%. There is no conclusive evidence yet that this group of mutations is directly more contagious in humans. In theory, it is possible that these mutations make vaccines ineffective, but for now this is unlikely. Vaccines that may be affected by the mutations that occur will be vaccines targeting the spike protein. However, vaccines induce an immune response against many regions in the spike protein, so a change in a single site is not expected to decrease the vaccine's effectiveness. Even if the effect of effective vaccines developed until now is reduced due to mutation, they can be easily changed when necessary. In the data so far, there is no evidence that the VUI-202012/01 variant causes more serious disease or is more lethal. This new variant continues to be studied to better understand how it might change transmission, disease severity and affect vaccine efficacy after the increase in cases. "
Failure to comply with social precautions rather than mutations of the virus affects the spread more.
Merdan concludes, "This B.1.1.7 lineage cluster, which also includes the VUI-202012/01 variant, needs to be followed closely. However, we do not yet know whether these mutations will have a serious impact on the progress of the pandemic. In addition, non-compliance with social precautions rather than mutations of the virus affects the spread more. Many new variants are spreading over wider areas, not because of mutation, but because their social spread occurs very quickly. This is exactly why all protection measures and measures are very important. There is no need to panic right now for the new variant that has been identified in the UK and has been approached with caution, but of course, it is always useful to be cautious. In other words, things should be done to prevent the virus from infecting and spreading. Thus, continuous mutation of the virus can be prevented. For this reason, countries have taken a series of measures to prevent the spread within the society and between countries ".