"Nuclear Energy" examined at EUL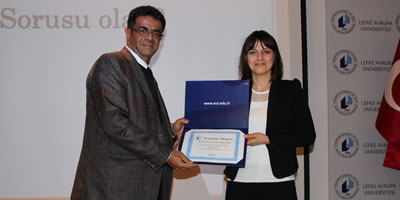 A conference about the subject "Nuclear Energy" has been organized by European University of Lefke (EUL) Students Dean and Electrical Engineering Club. To the conference, which has made in EUL Rauf Raif Denktaş Education Complex Conference Hall, Associate of Istanbul Technical University Assist. Prof. Dr. Senem Şentürk Lüle has participated as speaker.
In the conference, information about what is nuclear energy, fission, fusion, nuclear safety, radioactive, nuclear waste, nuclear accidents and its results have been given.
Lüle has stated that more than ten nuclear explosions have been happened yet the biggest 3 explosions of those have been experienced in Ukraine, Russia and Japan. Lüle, who stated that "uranium" is being used as fuel in nuclear power plant, has mentioned that uranium can be found in rocks, earth, rivers and oceans, is 40 times more common than silver, 500 times more common than gold, and small amount of uranium exists in Turkey. Lüle, who emphasized that there is no existing nuclear power plant in Turkey, stated that there is only 2 existing research reactor in Istanbul. Lüle, while mentioning that building a fully equipped nuclear plant is being completed in 6 years and its average using time is approximately between 40 and 60 years, emphasized that with those forward looking technological investments, transition to high technologies has been provided.
 "All the precautions that are stipulated by legislation needs to be taken"
Lüle, in her continuing speech, pointed out that "licensing" is a very important eligibility condition for opening a nuclear power plant. Lüle also emphasized that the responsible builder or operator have to took all the precautions like starting from site selection until doing the dismantling while the plant is closed, the quality that legislation has foreseen, safety standards, site license, construction license and business license.
After the question-answer part of the conference, appreciation certificate has been given to Assist. Prof. Dr. Senem Şentürk Lüle by Head of Electrical Engineering within Engineering Faculty of EUL Assoc. Prof. Dr. Özgür Cemal Özerdem.