Opportunity for students of EUL to receive two degrees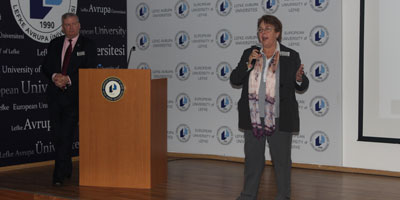 "Two Degrees Agreement" has been signed with The University of Bradford
Two degrees agreement has been made between European University of Lefke (EUL) and England's leading university The University of Brandford. Within the "Academic Protocol" that has been signed in January 2016, EUL students got the opportunity to receive two degrees.
EUL Rector Prof. Dr. Mehmet Ali Yükselen, who gave information about the protocol that is signed with Bradford University, has emphasized that the students that will get educated within this schedule will receive both universities' diploma after their four years of intensive education. Yükselen also emphasized that the students will get the two degrees chance after studying first three years in European University of Lefke and the last year in The University of Brandford.
Yükselen has celebrated England Education Ministry Royal Charter titled "Bradford University's 50th Education Year". Yükselen has also mentioned that The University of Brandford is an essential university with a student profile that has 17,000 students from 150 different country. Thus, students from EUL will gain important experience before they start their career.
Scholarship will be granted to the students
Yükselen has mentioned that within the protocol, which has been signed between European University of Lefke and The University of Brandford, Economy, Banking and Finance, International Relations within Faculty of Economics and Administrative Sciences; Computer Engineering, Software Engineering, Electrical and Electronic Engineering, Electronics and Communications Engineering within Faculty of Engineering have been included into the "Two Degrees Programme". Yükselen stated that within the agreement, various scholarships such as scholarship, high honor scholarship and special scholarship for EUL will be given to EUL students according to the national distribution.
The University of Brandford officials have informed students of EUL
Within the protocol, The University of Brandford officials and students of EUL come together to realize an outreach programme in order to inform students of EUL about the two degree opportunities. The director of External Affairs of Bradford University Mark S. Garatt and Deputy Director Kay Fitzpatrick have presented an informative presentation about The University of Brandford to students of EUL and answered the students' questions. In the presentation, detailed information about the history of The University of Brandford, presentation of the campus and faculties, graduates of the university, Bradford city, student life, application procedure and visa procedures all have been given to the students of EUL by the officials from the University. The officials have met related students one by one after the intensive outreach program.